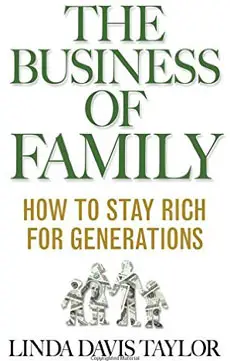 This second SavvyReview takes a look at The Business of Family: How to Stay Rich for Generations by Linda Davis Taylor. Taylor is the CEO and Chairman of Clifford Swan Investment Counsel, the nation's oldest investment advisory firm, in Pasadena, California.
A participant in a fourth generation family business, she is a frequent speaker on wealth transition, family governance and philanthropy. Her versatile career includes stints in senior leadership positions at multiple colleges and she has served as a trustee for numerous educational and non-profit organizations.
I was excited to read this book as generational wealth is something I have given a lot of thought to recently, speaking about the topic not only with my wife, mother and daughter, but also with cousins as I explore ways to ensure future generations of my family are well positioned to attain – and maintain – wealth.
The first thing that caught my attention upon receiving the book from the author's publicist was the size of the book. At less than 200 pages, it isn't a 5″ thick tome and I was able to read it in less than three days. Nice! However, don't be fooled by the thinness of the book. It is packed with useful information.
How do families go about building and maintaining wealth? That is the central question the book seeks to address. The question has challenged families for many generations. Unlike an entrepreneur that develops and executes a detailed strategy for ensuring financial success, Taylor notes that most families do not have a detailed strategy in place and that is exactly what they need.
The book is conveniently broken down into five sections. Early in the first section she notes that over 70% of wealth doesn't last beyond three generations; and she observes that making money is only one part of the equation, keeping it is the other. The first step in doing both? Having a strategy. Taylor notes that starting a business takes more than a dream; it requires a well-thought-out strategy. The same goes for families hoping to achieve – and maintain – financial success.
Getting the family on board is discussed in the second section. Just like a business, the recommendation is that families should forge partnerships, set goals and celebrate milestones and there should be established roles/responsibilities for each family member. As someone who firmly believes in tracking meeting minutes, it was interesting to see that Taylor shared the agenda for a client's first meeting. The agenda covered multiple areas including: mission and membership of the family council, review issues for the future meetings, an open discussion and a wrap-up.
The third section addresses something discussed quite frequently here at RetirementSavvy, financial literacy and education. Taylor notes that just as an educated workforce is necessary for fueling long-term growth in a business endeavor, the same is true for a family. Beyond financial education, Taylor recommends that families get along to get ahead and continued guidance and mentoring take place in the family. Sounds like solid advice to me.
With a solid foundation in place, the suggestion is that families turn their attention to staying on track, both with respect to their finances and the family. As Taylor notes, the wealthy know their family and their money are not mutually exclusive. Taylor concludes the book by advising that families establish a long-term plan that adequately prepares the next generation.
For anyone that has given thought to building wealth that extends well beyond their own life, understands the importance of advocating for financial education throughout a family and the importance of involving all family members in the discussion, planning and execution of financial goals, The Business of Family: How to Stay Rich for Generations serves as an excellent guide. It is well written, organized and comprehensive in its approach. It provides enough detail without being overly long or too technical in its presentation.
As a thank you to RetirementSavvy readers, I will be giving away a complimentary hardcover copy of the book to a reader. The winner will be randomly selected from those who leave a comment. For those readers not fortunate enough to receive the complimentary copy, The Business of Family: How to Stay Rich for Generations is available at Amazon in Kindle and hardcover formats.
The Giveaway will end, and the winner selected, at 12:00 p.m. (EDT) on Sunday, July 26th.