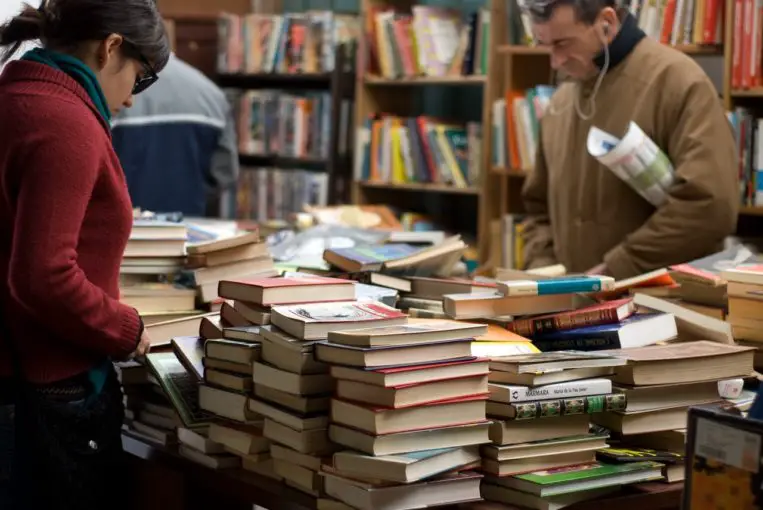 Securing Retirement: 14 Best Retirement Planning Books
Here at Retirement Savvy, we're big on having a fulfilling and secure retirement. Here are our top recommendations for books to read on retirement in 2019!
1. HOW TO RETIRE HAPPY, WILD AND FREE
Many people look forward to retirement. They have dreams of all the things they could possibly do. However, that excitement quickly gives way to boredom and a lack of purpose.
For that reason, some fear retirement. In this book, Ernie J. Zelinski, takes a refreshing view on retirement – pearls of wisdom about how to take advantage of your retirement years to follow your dreams.
And that is what is so unique about this book. It does not offer complex strategies and techniques on how to save for retirement like most retirement planning books. Instead, it offers solid advice on equally important aspects of retirement, like taking care of your health and staying connected socially.
Some key takeaways from this book include:
Find the courage to retire early in order to enjoy more rewards

Invest your money intelligently that you do not need millions to retire

Enjoy your retirement by doing things that you enjoy

Follow your dreams

Take control of your physical and mental health
Buy on Amazon
2. THE NEW RULES OF RETIREMENT: STRATEGIES FOR A SECURE FUTURE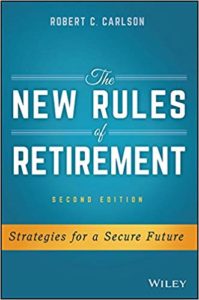 While certain principles of retirement planning never change, you must employ updated strategies that address modern day challenges.
Robert C. Carlson provides his readers with proven retirement strategies in an era of low investment returns, higher taxes and less comprehensive Social Security and Medicare programs. This resource offers valuable information on how you can create financial security using profitable techniques.   
You will also learn how to save for your retirement, how to invest before and during retirement. This edition brings into focus some key areas such as income taxes, estate planning and IRA management for financial security.
Some key takeaways from the book include:
How to identify potential threats to your financial security and how you can overcome them

How to estimate your retirement spending and build a sustainable strategy to spend wisely

How to diversify your portfolio to maximize returns even when in difficult situations.
Buy on Amazon
3. HOW TO RETIRE WITH ENOUGH MONEY: AND HOW TO KNOW WHAT ENOUGH IS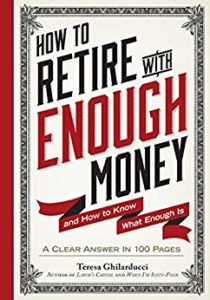 This short retirement planning book was written by Dr. Teresa Ghilarducci, an economics professor and a retirement and savings specialist.
We love how the book examines the whys behind most pre-retirees poor saving and spending habits. 
Dr. Teresa also addresses the issue of poor policy making and how it also contributes to poor saving and excessive spending.
As a result, you can expect to get a bigger appreciation for the challenge that lies ahead once you understand the context that surrounds retirement planning.
Finally, the book offers tactics on how you can get your spending under control without needing the services of a financial planner. It also explains how you can save for retirement using simple rules of thumb.  
Some key takeaways from the book include:
Take advantage of your 401k retirement plan

Delay taking your social security benefits if possible

Avoid financial planners because of their high charges

Invest in low fee index funds

Spend less and save more

Avoid accumulating too much debt
Buy on Amazon
4. THE 5 YEARS BEFORE YOU RETIRE
If you're close to retirement and haven't quite got your plan in place, then this book is for you.
Emily Guy Birken explains you can maximize your savings in just 5 years to retire comfortably. Think of it as "just-in-time" advice. 
What we liked about this book is that it explains how many are not able to save enough money for retirement despite having good incomes. 
Birken explains how you can make better financial, medical and familial decisions when it comes to saving money. She advises readers to enroll in Medicare, invest in real estate and take advantage of the 401k retirement plan offered by employers.
This is certainly advice that you can use even if you're not close to retirement age.
One criticism we had of the book is that it spent a lot of time talking about Medicare, which is frequently updated. This could make the advice somewhat dated by the time you get your hands on it.
Some key takeaways from the book include:
What you need to do before retirement age in terms of finances, housing and Medicaid.

How to do all of this in a short time before you retire.
Buy on Amazon
5. HOW TO MAKE YOUR MONEY LAST: THE INDISPENSABLE RETIREMENT GUIDE
A wonderful resource from Jane Bryant Quinn. The author shares strategies on how to manage your money when you've already retired. 
The book gives practical, solid advice on topics like fund types, portfolio rebalancing, asset allocation and more.
So if you are looking for strategies to help you grow your money ensuring your pot of savings never runs dry after retiring, then you'll find this book to be invaluable.
Some key takeaways from this book include:
How and where to invest

Take advantage of your social security

Understand that your house is an asset

Know how much to withdraw each month
Buy on Amazon
6. RETIRE INSPIRED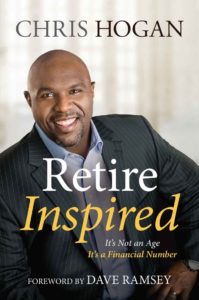 Retire Inspired by Chris Hogan is perfect for working adults young and old who aspire to escape from living paycheck to paycheck.
What we really like about the book is Chris' goal-based approach to retirement:
He explains that retirement is a financial number and not an age. He explains that when it comes to planning your retirement, you should have a target number – the sum of money that you need in order to enjoy a stress-free retirement. 
He'll guide you on setting reasonable expectations, and provides advice on how to get there.  
Some key takeaways from this book include:
Understanding the different retirement plans options that are available and which one you should use.

What insurance coverage you should get

How to be free of

non-mortgage debt

Why you need to have an emergency fund

Types of tax-advantaged accounts

Ways you can invest
Buy on Amazon
7. HOW TO RETIRE HAPPY

What makes this book stand out among most retirement literature?  Stand Hinden, the man behind this incredible book uses insights from his personal experiences to show how you can retire happy. 
This step-by-step resource is easy to understand and it touches on almost all areas of retirement, including financial aspects, and mental and emotional health.
Some key takeaways from the book include:
Choosing where to live when you retire

Solid advice on health and other types of insurance 

When you should take certain steps like apply for social security, take money out of your IRA etc. 
Buy on Amazon
8. THE TRUTH ABOUT RETIREMENT PLANS AND IRAS
Many retirement experts have emphasized on the importance of saving money for retirement. However, not many people who by the time they get to retirement age have enough money to live on. This is because many people don't know how to save wisely.
In this guide written by Ric Edelman, he explains how you can save for your retirement. He also debunks and clears up the dangerous myths people believe in when it comes to retirement planning.
Edelman explains that by making wise investment choices and converting your 401(k) retirement plan into an income, you can create long-term financial security.
Some key takeaways from this book include:
How to invest wisely

Understanding the power of compound interest

Retirement plans and how you make contributions even when you don't think you can afford to
Buy on Amazon
9. THE SMARTEST RETIREMENT BOOK YOU'LL EVER READ
The book's title certainly makes a bold promise, and we're happy to announce that it lives up to that promise.
It comes as no surprise, as the author Daniel R. Solin writes for prestigious publications such as The Huffington Post, and USNews.com.
This is a simple to read book for beginners that know next to nothing about retirement planning. It'll give you a good enough foundation to properly evaluate advice that financial planners and gurus offer you. 
Some key takeaways from this book include:
How to ensure that the money you earn lasts longer than your lifetime

How to avoid common mistakes that can leave your loved ones impoverished

How to identify scams that may rob you of your savings

Discover simple methodologies to help you diversify your portfolio(s)
Buy on Amazon
10. THE COMPLETE CARDINAL GUIDE TO PLANNING FOR AND LIVING IN RETIREMENT
Retirement requires good planning; however, the financial complexities associated with it can be intimidating. This book by Hans Scheil covers the challenges, opportunities and the choices from an investment, Social Security, insurance and Medicare standpoint.
The guide provides you with tools that can help you understand how to make more informed choices.
The motivation behind this book is to offer guidance on the retirement alternatives available for retirees. It highlights strategies that you can use now, to make your retirement successful financially.
Some key takeaways from this book include:
How to transfer your assets and life insurance to your next of kin

How to deal with tax rate changes after your retire

What investment strategies can help you finance your retirement years
Buy on Amazon
11. 
The Ultimate Retirement Guide for 50+: Winning Strategies to Make Your Money Last a Lifetime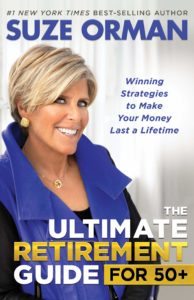 The Path to Your Ultimate Retirement Starts Right Here!
Retirement today is more much complex than it has ever been. No matter how you tell yourself that you're prepared enough you will still have to make decisions based on what you think might happen in teh future. Having or reading a book which explains the how and why's of retirement can help you decide on a clear path to take without having to lose  a huge amount of your hard earned money.
The book is laid out in a great way through steps that you can take in preparing for your retirement. The writer gives practical examples and stories based on her own experiences.
Some key takeaways from this book include:
Different types of retirement accounts
Recommended stock/ bond allocations
The advantages and disadvantages of having a Financial Advisor
The Do's and Dont's when retiring.
12. 
Your Complete Guide to a Successful & Secure Retirement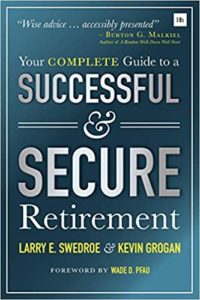 This book teaches you how to approach retirement through social security, medicare, investment strategy, and other retirement issues that some women are facing. 
In this guide written by Investment and personal finance experts Larry Swedroe and Kevin Grogan, they've taken all their years of experience and expertise in providing comprehensive coverage of every aspect of approaching retirement which is based on the science of investing which makes it perfect for anyone who still doesn't have any idea on how they'll retire because this is considered as the most comprehensive coverage for retirement financial planning.
Some key takeaways from this book include:
Different investment strategy you can choose from
When is the best time to take insurance, long-term care, medicare, etc.
How to properly plan and manage your retirement.
13. 
Passive Income, Aggressive Retirement: The Secret to Freedom, Flexibility, and Financial Independence (& how to get started!)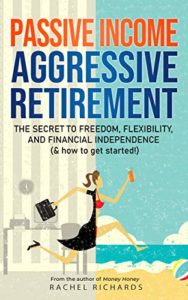 The book written by Finance guru and former financial advisor Rachel Richards teaches you everything you need to know to become financially free before you even start your retirement. She emphasizes financial independence and how a passive income can help provide a comfortable retirement for some people. 
She walks you through the beginning to how retirement is changing over time. She discusses a variety of passive income that even seasoned veterans can learn more and why some people would need to look into it.
Some key takeaways from this book include:
There are different kinds of Passive income you can choose from
Understanding how Passive income works
How to approach your retirement aggressively using your passive income
14. 
How Much Money Do I Need to Retire?: Uncommon Financial Planning Wisdom for a Stress-Free Retirement
Written by former hedge fund manager Todd R. Tresidder, We love that it talks about retirement shortcomings that most of us experience. This also made us realize the different factors that may affect our future financial security and independence. 
The author also talks about retirement calculators and strategies that can help you plan a better retirement. It provides a crystal clear explanation of what retirement planning really is.
Some key takeaways from this book include:
How important it is to know exactly what you want to achieve when you retire.
How good it is to know that there are some critical assumptions that you have to know to avoid destroying your financial security.
How not knowing retirement shortcoming affects your future retirement plan.
The importance of knowing how much money you need for retirement.