If you're retired or just want to work from home and earn some extra money without tiring or demanding tasks, online typing jobs are perfect for you.
The internet is full of job boards and listings for people who can type quickly and accurately.
The bad news is that a lot of scammers are out there, promising you the moon, but then either paying you poorly or not at all.
To help you avoid that, we've come up with a list of online jobs where you can get paid to type. We've done all the hard work by reading reviews, watching tutorials on YouTube, and cross-referencing our sources to make sure they're legit and actually pay their typists.
You'll find out which sites are reliable and how you can earn as much as $100 per hour from home-based typing jobs.
Don't skip this article, or you might miss out on some great opportunities to make money at home!
Can You Earn Money By Typing?
Yes, you can definitely make money at home by typing.
Whatever your skill level is—whether you're just learning to type or you can type lightning fast—many companies out there are looking for someone just like you to take on their typing needs.
For instance, you can get paid to type captchas, transcribe podcasts, subtitle movies, or get paid to type names.
Best of all, the barrier to entry is low.
You don't need certifications, a degree, or fancy equipment. As long as you have a computer, internet connection, and basic typing skills, you can start earning money by typing.
What's The Average SalaryFor Typing?
Typists in the US earn an average of $19 per hour or nearly $40,000 a year.
Of course, salaries for typing and data entry will vary from company to company, depending on the tasks that you're doing.
If you're typing out numbers or simple text, your rate will be on the lower side.
But if you're doing something more specialized, like subtitling a movie or transcribing a recording of a lecture, your rate will go up as the level of expertise required increases.
9 Legit Sites & Apps To Get Paid Typing at Home
The sites on this list are reputable companies with a strong online presence, verified payment system, and offer work-from-home positions.
Earn Money By Typing Captions and Subtitles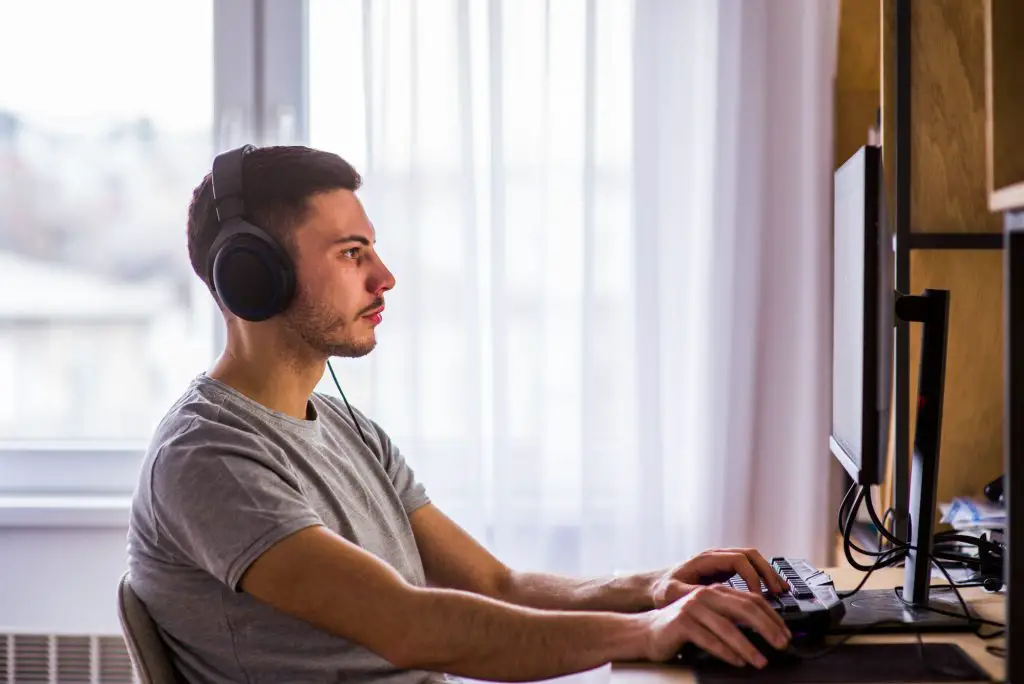 If you have strong typing skills, then you could be making a living as a freelance transcriptionist for the entertainment industry.
From Netflix to Paramount, many companies are finding it easier to hire freelancers than to hire full-time typists:
1. Rev
Rev is an online marketplace for transcription services. If you can type quickly and accurately and have great attention to detail, you may like working for Rev as a captioner.
Captioners make up to $1,500 a month and are paid weekly through PayPal.
To apply as a Rev freelancer, you'll need to create an account. Then you'll need to take a quiz before submitting a short transcript to check if you can handle the Rev style guide.
You can start accepting jobs the moment you're approved.
2. Go Transcript
Go Transcript is an online platform where clients can order transcripts of podcasts, interviews, webinars, meetings, and more.
They hire "transcription experts" who are fluent in English and have good typing skills to transcribe their audio files.
Rates for simple captions start at $0.60 per minute, while subtitling can get you as much as $10 a minute. Salaries are paid every week through PayPal or direct deposit.
You can apply for Go Transcript online.
You'll have to create an account, verify your identity through SMS and photo, then take a short typing test.
3. Hollywood Transcriptionist
Hollywood Transcriptionist is a company that works with all the big players in Hollywood, such as Netflix, HBO, and ABC.
They're always looking for new remote typists to help make sure movie fans everywhere can follow along with their favorite titles.
They pay around $10 an hour through PayPal and require a typing speed of at least 65 WPM.
To apply as a Hollywood Transcriptionist, you'll need to send your resume and answer an online questionnaire.
If you pass the initial stage, you'll undergo a transcription test before getting approved for transcription jobs.
Get Paid by Typing Documents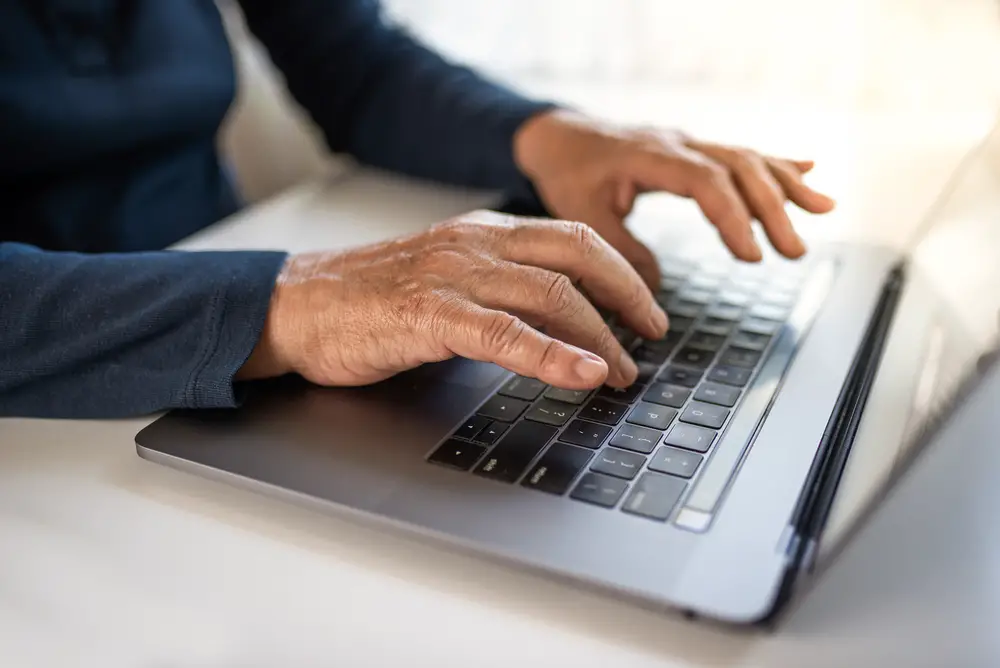 One of the most common ways to earn money online is to get paid to type scanned documents, PDF files, and handwritten files.
Companies, especially those who are migrating their assets toward digital storage, need typists who can work quickly and consistently.
Try applying to these sites:
4. Amazon Mechanical Turk
Amazon Mechanical Turk is a company that allows you to sign up and complete small tasks for payment.
Tasks might include creating or labeling images, transcribing audio, or researching data details. Pay ranges from $0.01 to $0.15 per task, with the average task paying $0.03.
You can get paid through PayPal or Amazon gift cards.
To apply, you'll need to request an mTurk worker account using your Amazon log-in credentials.
Since it's a crowdsourced marketplace, you don't need any experience to get started.
5. iWriter
iWriter is another platform where beginner freelancers can find writing jobs across a wide variety of categories, including transcription jobs.
The pay for transcription work starts at about $1 per minute of audio transcribed, with premium rates for experienced transcribers who can provide high-quality work consistently.
To apply for iWriter, you'll need to create an account, submit a quick research test, and create a profile from there if you pass.
Earn Money Typing Online as a Transcriptionist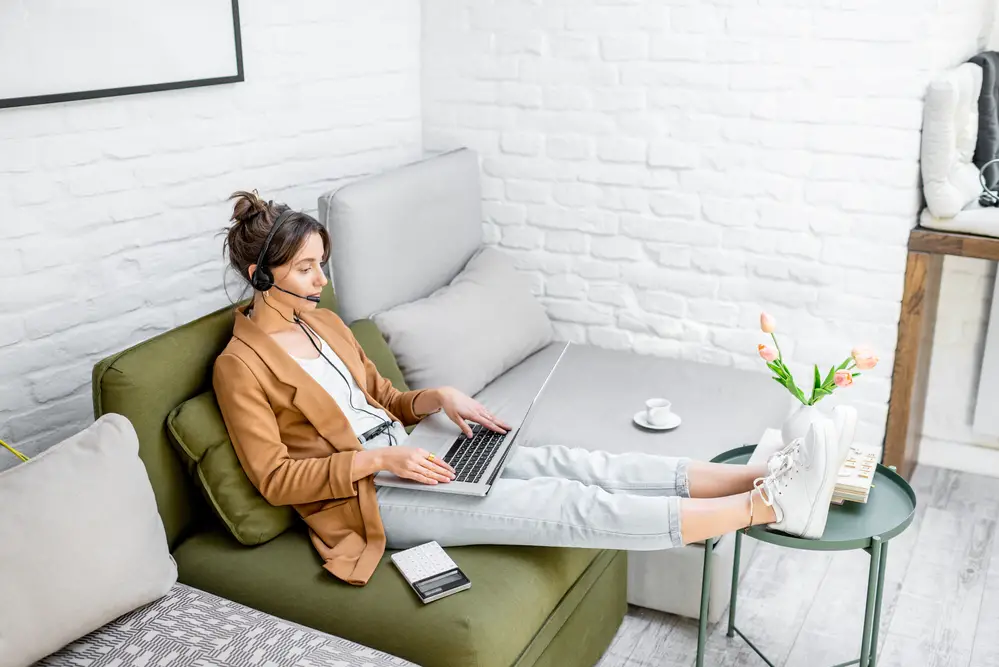 As a transcriptionist, you can get paid to type what you hear from audio and video files.
Here are some great companies that offer online transcription jobs:
6. TranscribeMe
TranscribeMe hires typists from all over the world, so you can be anywhere with a good internet connection and still get work done for them.
They have both full-time and part-time positions, and the work is on a per-audio hour basis.
Some workers have reported earning between $15 and $22 per hour of audio transcribed.
To become a freelancer with TranscribeMe, you'll need to register an account first. Then you'll need to pass an exam course and training before you can start as a transcriptionist.
7. Casting Words
Casting Words is a transcription company that specializes in podcasts, interviews, and other audio files.
Casting Words accepts all levels of transcription skills, but they do require you to take a short test before being accepted as a freelancer.
They pay per audio minute based on the quality of your work.
If you perform well, you could earn between $0.20 and $0.60 per audio minute paid through a bank deposit or PayPal.
To apply as a Casting Words transcriptionist, you'll need to sign up for an account and undergo their typing workshop before you can accept typing jobs.
8. Babbletype
Babbletype hires transcriptionists and translators from all over the world to translate audio files from one language to another.
The pay for each project varies but usually falls within the range of $0.10 to $0.15 per word, depending on the length of the project and its overall difficulty level. Cashout is through PayPal.
To apply as a Babbletype freelancer, you need to fill out an application form and provide your native language as well as the languages that you are fluent in writing.
9. Scribie
Scribie is a company that hires typists to transcribe audio and video files.
They work with a lot of remote typists and allow you to choose your own preferred schedule and project.
This means that you're in control of when you work (as long as you meet the deadlines) and what type of files you want to transcribe.
As a transcriptionist at Scribie, you'll be making $5 per every 6 minutes of audio transcribed.
You can only be paid in PayPal, but there are no minimum cashouts or payout schedules to worry about.
To start your Scribie application, you'll need to create an account and complete a typing test.
Who Can Apply For Online Typing Jobs?
Anyone interested in making money from home can apply for online typing jobs.
Specifically, typing from home is a great option for:
Retirees
Students
Freelancers
Employees looking for side income
Stay at home parents
Unemployed people
The most important thing is to have basic typing skills, a computer, and reliable internet access.
You can work anytime, anywhere, and as much as you want, which makes online typing a great option for many people.
What Kind Of Companies Pay People To Type?
Typists can be found in almost any industry, but there are some areas that need typists more than others:
Hospitals and nursing homes
Medical personnel (doctors, nurses, and aides) dictate notes throughout the day. These notes must be typed up to ensure they're legible.
Insurance companies
Insurance companies often have staff members who specialize in typing up insurance policies.
These policies are typically very long and detailed, so it's important that they don't contain any errors.
Legal firms
Lawyers often dictate letters or contracts with clients. These documents need to be typed accurately to avoid legal disputes.
Marketing and advertising firms
Marketing and advertising firms regularly produce reports that describe their latest research findings.
These reports are almost always dictated before being typed up.
Financial analysts
Financial analysts often write analytical reports that describe a particular stock, bond, or mutual fund.
They will dictate these reports so another person can type them up for them.
Schools and educational institutions
Schools (both K-12 schools and colleges) regularly produce transcripts of students' grades and academic records.
In many cases, secretarial staff will type these transcripts for students to send to other universities or employers.
Data entry companies
Many companies outsource their data entry needs to other companies.
This could be entering bank statements into a computer system or keying in information from paper forms into a computer database.
These jobs generally require fast and accurate typing skills.
Virtual assistance companies
It might not occur to many people that virtual assistants are often hired for their typing skills.
These administrative assistants need to be able to type quickly and accurately.
The work can involve transcribing meetings, taking notes over the phone, or simply answering emails with short responses from the client's customers.
Businesses that offer transcription services
Businesses that offer transcription services hire contractors through freelance websites where you can bid on projects for pay per minute of audio transcribed.
If you have good typing skills and great listening skills, this might be a good option for you to consider.
Social services
Social service agencies often need people to type confidential client reports.
One example is CPS, Child Protective Services. They may also need volunteers who are willing to type reports as needed.
State and county agencies, as well as university social work programs, are just a few examples of places that may need typists.
Television and movie production companies
When shows or movies are produced, a lot of paperwork is generated.
The script needs to be typed into a program that will make it look like a real script.
Other documents may be required, such as props lists, shot lists, and schedules that have to be typed up. These companies often hire individuals to do the typing for them.
Any business that needs subtitles for their content
Most businesses that produce video content need subtitles, whether they're making TV shows or marketing videos.
These companies often outsource this work to transcriptionists because it's cheaper than hiring an employee.
Large corporations with a lot of paperwork
Typing is often used to transform documents into electronic formats.
You can enter data into software programs, databases, spreadsheets, and so on.
Some companies have their own software systems that require typing skills, but you don't need to be an expert programmer to use them.
What Equipment Do You Need For Online Typing Side Hustles?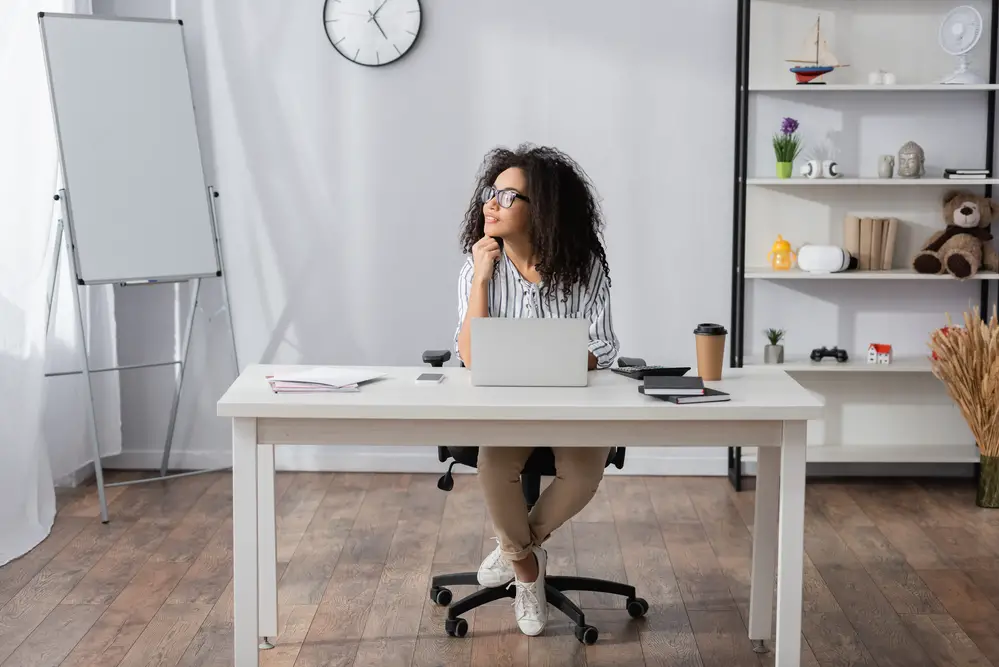 You might be surprised to learn that you don't need much equipment to type and earn money from home.
As long as you have the following, you're good to go:
A computer or laptop
If you're on a tight budget, this doesn't have to be the latest and greatest.
However, anything older than five years may not have the power you need to process documents quickly.
For example, if you're working with big spreadsheets or lots of photos, even an entry-level machine will struggle to keep up.
The basic specs you'll want to look for are:
A processor of at least 2.0 GHz, though faster is always better.
At least 4GB of RAM, though this can be the first thing you upgrade if you find it's not enough.
A hard drive with at least a terabyte (1,000 gigabytes) of storage space. If your computer is five or more years old, it probably has less than half that amount, and that may not be enough for your work needs.
At least an Intel i5 or i7 processor.
If you're not looking to spend a lot of money, there are plenty of refurbished models available online and in stores that will do the job just fine.
A reliable internet connection
If your internet cuts out mid-project, your client might dock your pay or ask for a refund.
Remember that many clients don't live in the same time zone as you (especially if you're a freelancer), so make sure your internet is available any time of the day or night.
Basic word processing software like Microsoft Office
You don't want to spend all your time figuring out how to use the program, so we recommend sticking with something simple but capable. Microsoft Office is ideal for most people because it's easy to use and works on both Windows and Mac computers.
Alternatives include OpenOffice Writer, LibreOffice Writer, Google Docs, and Zoho Docs.
Free communication software such as Skype
It's important for remote workers to stay in contact with their clients and teammates, especially if they need help or have questions about projects.
Free editing software such as Grammarly
If you're not already using free editing software such as Grammarly or Hemingway, now is the time to start.
You can get away with making small mistakes while typing for friends or family.
But when you're doing it for money, your mistakes can cost you the job.
Speakers or headphones
You can't work from home without speakers or headphones for listening to audio files and instructions about projects.
Good quality equipment will make it easier for you to hear and transcribe the audio clearly.
A comfortable chair
You might be surprised at how much your back hurts after sitting in an uncomfortable chair for a few hours.
Plus, if you're going to be spending a lot of time typing, you don't want to be uncomfortable and distracted by pain.
Every minute counts when you're on a deadline.
A way to receive payment online (e.g. PayPal)
Most typing jobs pay through PayPal, which means that you need an account set up and ready to go before you start applying for jobs.
If your typing job offers payment via check, then simply set up a bank account where clients can deposit money.
And that's it! You can find a lot of software for free, and you don't need to spend a lot on equipment before you try applying for online typing jobs.
Still, if you have room in your budget, upgrading your equipment is definitely worth it.
Not only will it make your job easier and quicker, but it can also open up new typing opportunities for you.
How Fast Do You Need To Type To Get An Online Typing Job?
It depends on the employer, but the average word-per-minute requirement is typically between 40 and 65 WPM.
Typing speeds above 80 wpm are considered high speeds, but it's unnecessary for most jobs.
To see how fast you can type, visit TypingTest.com and take a free typing test.
The website will calculate and display your net words per minute, as well as gross words per minute and accuracy percentage.
Notes:
For project-based typing jobs that have deadlines and deliverables, your speed may not matter as long as you meet your deadlines.
If you're doing freelance typing and billing by the hour, then you'll have to be quick as well as accurate to earn a decent hourly rate.
It's not just about speed but also accuracy. If you can type really fast but make lots of mistakes, you'll waste time correcting those mistakes than a slower typist with greater accuracy.
How to Type Faster: Practical Tips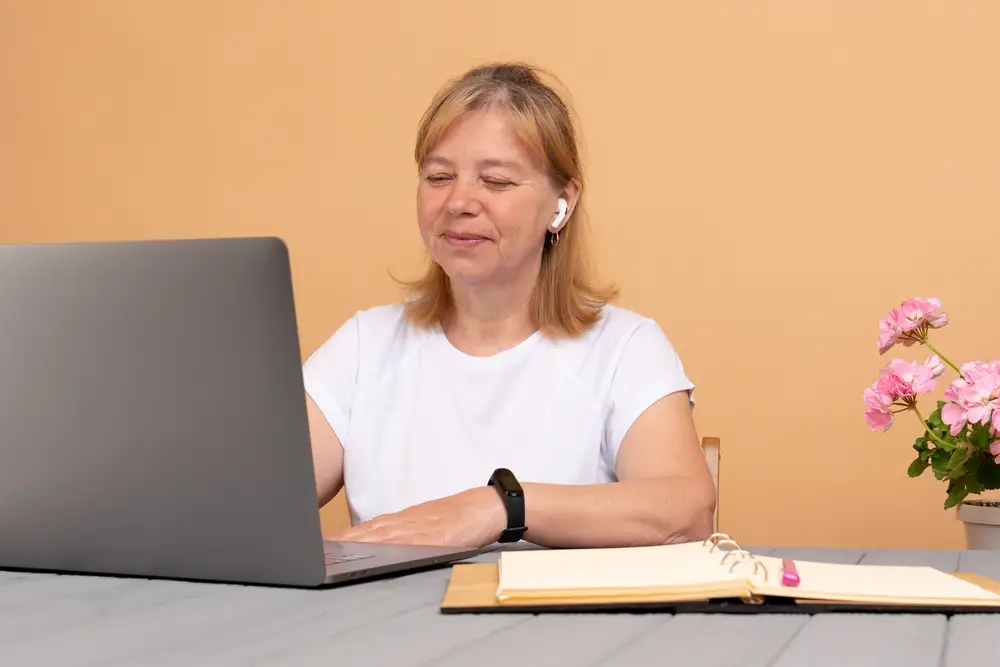 As a typist, your speed can determine how much you earn. The faster you type, the more money you make.
Even if you don't plan to earn money by typing, increasing your speed helps with other tasks, such as writing emails and documents.
It takes time and practice to learn how to type fast, but once you do, you'll boost your productivity.
Here are some tips on how to type faster and more accurately:
Use the right keyboard
The most important thing is to get a good keyboard that supports your typing style.
If you type with just your fingertips, choose a low-profile keyboard that has a short key travel and requires little pressure to hit the keys.
If you type with your fingers flat or with your wrists resting on the desk, opt for a regular full-sized keyboard with medium-key travel.
Master the home row
Get comfortable with where your fingers rest on the keyboard.
The home row is made up of the keys A–S–D–F (for the left hand) and J–K–L–; (for the right hand).
When typing, use these keys as anchor points for your left and right hands, respectively.
Practice touch-typing regularly
Practice typing regularly over an extended period to master it.
Consistency is more important than frequency — try to type every day at the same time so that it becomes a habit.
Start off slowly and increase speed gradually
If you're new to touch-typing, start off by practicing individual letters before moving on to words and phrases.
Don't worry too much about speed—accuracy comes before speed, so take your time!
Taking regular breaks is important
When you take a break, make sure you get up and move around. Do some stretches to prevent your hands and arms from getting too stiff.
Learn to type without looking at the keys
You can't type fast if you're always looking at the keyboard to see where each finger should go next.
As you get used to typing with all ten fingers, your eyes will naturally look ahead at the screen rather than down at your hands.
Don't use too much force to hit the keys
Using too much force slows you down and causes hand strain over time.
It also makes for lots of typos and mistakes, because you're more likely to slip off the keys that way.
Use just enough pressure so that hitting a key feels natural and easy, but don't strike them so hard that they feel uncomfortable.
Keep your fingers hovering above the keys
This will keep you from using too much force when you do strike a key.
Use a typing tutor that suits your needs
If you're serious about learning how to type faster, invest in a good typing tutor program like Typesy or 10FastFingers (free).
These programs can help you learn to type properly using all ten fingers and improve on speed and accuracy as well.
How to Spot Online Typing Job Scams
It's important to be aware of online typing job scams because you could lose money, waste time, or even compromise your personal or financial information.
Here are some signs that an online typing job might be a scam:
The job posting is vague, too good to be true, or promises high pay for minimal work.
You did not apply for the job posting, but someone contacted you about it.
The job requires you to use your personal bank account or credit card.
They ask you to wire money back to them.
The company requires you to purchase their software in order to continue with the application process.
They ask for personal information like your bank account number, Social Security number, and driver's license number before you work.
Remember: it's always better to be safe than sorry.
The moment you notice these signs, disregard the email and stop communication with the company.
There's no shortage of online typing jobs, so don't worry about missing out on opportunities.
Conclusion 
If you're looking for a great way to earn a few extra bucks from the comfort of your own home, there are certainly plenty of options available.
Just make sure to do your research and select trustworthy companies before applying for any typing jobs.
Also, watch out for red flags when you start applying; if a company seems suspicious in any way, move on to the next one.