If you're planning to spend your golden years in the Pacific Northwest, you might wonder if Oregon is a good place to retire.
After all, it has a lot to offer: beautiful beaches, hiking trails, and scenic vistas.
But is it really a great place to settle down?
To help you decide, we checked different sources and reviews from people living in Oregon to give you a clear picture of what it's really like there.
You'll learn about the pros and cons of moving to Oregon, along with tips on choosing a place to call home during your retirement.
Your choice can make or break your quality of life when you retire, so be sure to read until the end. Let's start!
Fast Facts about Oregon State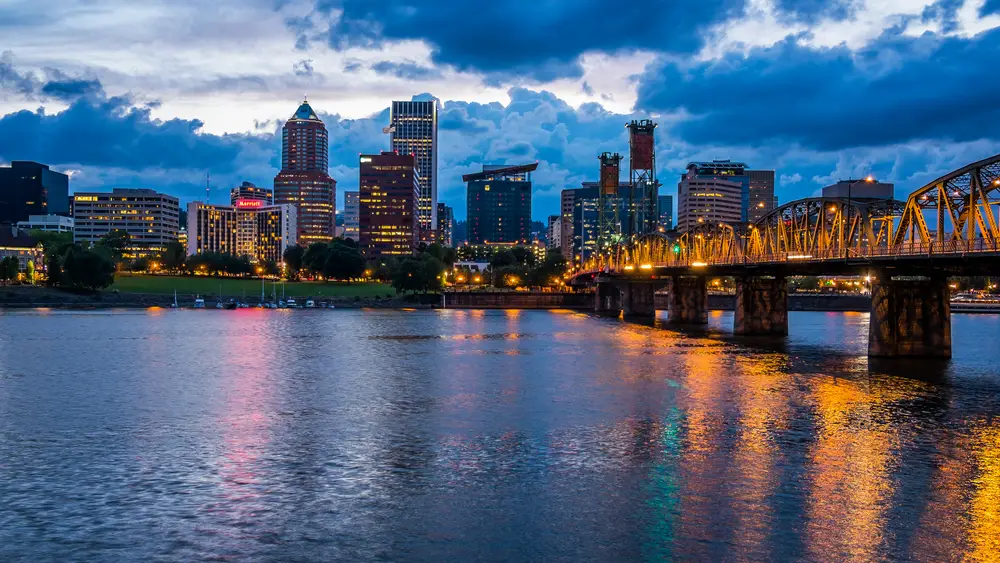 Oregon is in the Pacific Northwest region of the United States and became a state on February 14, 1859.
It sits on the West Coast, with Washington to its north, California to its south, Idaho to its east, and Nevada to its southeast. The capital is Salem, but Portland is Oregon's largest city.
With its lush forests, mountains, valleys, and high deserts, Oregon offers visitors an abundance of activities, from skiing on Mt. Hood to whale watching along the Oregon Coast or touring one of many award-winning wineries, breweries, or distilleries.
The state's motto translates from Latin to mean "She flies with her own wings."
Fun Trivia: Oregon is also one of a few U.S. states to have an official state nut (the hazelnut) and official drink (milk).
If you're looking for a retirement destination on the West Coast, Oregon is an excellent state to consider. Its climate is mild and its tax laws are friendly to retirees. 
That's only the beginning of what you'll love about living in Oregon when you're not working anymore:
Magnificent Natural Beauty
Oregon is a gorgeous state filled with breathtaking scenery, from the Pacific Ocean to the magnificent Cascade Mountains.
It's also home to some of the most beautiful beaches that rival those on either coast.
And these aren't just pretty views: The state's natural beauty has positive effects on the health and wellbeing of retirees.
Studies show that people who live near green spaces have lower rates of obesity and high blood pressure, plus they live longer than those who don't.
No Sales Tax
Oregon has no sales tax, which can save retirees thousands of dollars every year.
Even better, there's no tax on Social Security income, so you can keep more of your retirement benefits by moving to Oregon.
This can make a big difference for retirees who are living on fixed incomes or have depleted their savings accounts.
Beautiful Summer Weather
In Oregon, the summer months are warm and dry.
While many states struggle with intense heat and humidity, Oregon has a cool sea breeze that keeps things nice and comfortable when the weather gets warm.
Plus, the dry weather means that the rain doesn't linger for days on end as it does in some other parts of the country. That translates to more time spent enjoying your retirement!
Eco-Friendly Lifestyle
Oregon deeply values sustainability and conscientious living. A major goal of the state is to reduce carbon footprint to preserve the environment for future generations.
For eco-conscious retirees, this is one of the best reasons to move to Oregon.
This green mindset manifests in a variety of ways, from recycling bins at every curb to electric car charging stations throughout the state.
You can find farmers' markets wherever you go, offering locally grown produce and products made by local vendors.
Many retirees in Oregon choose to spend their free time volunteering with environmental organizations, such as the Audubon Society of Portland or the Columbia River Estuary Study Taskforce (CREST).
They are just two examples of the many opportunities available for those who wish to make a difference in their communities.
Outdoor Recreation
One key reason that Oregon is such a popular place for retirees is because of the endless outdoor recreation. 
Oregon is full of beautiful coastlines and mountains, which makes it a nature lover's paradise. Whether you enjoy fishing, hunting, or going for hikes through beautiful forests, there are endless opportunities to pursue your passion.
While it may be too cold to go golfing in other states during the winter months, Oregon offers warm enough weather year-round that golfing can be enjoyed whenever you want.
Safe for Bikes and Pedestrians
Oregon consistently ranks among the states with the most bike-friendly infrastructure, and it also boasts a high percentage of residents who actively choose to walk or cycle instead of driving.
This means that public safety for pedestrians and cyclists is a priority for locals, and that makes it easier for retirees to get around without relying on cars.
Rich Cultural and Social Scene
Oregon State is home to many museums, art galleries, music venues, restaurants, and more.
There are plenty of opportunities for retirees who love being active in their community—there's always something exciting happening around the corner!
Easy Access to Fresh, Healthy Food
Oregon has a long tradition of self-sufficient farming and ranching communities.
The fertile soil and temperate climate make it possible to grow an incredible variety of fruits and vegetables that would otherwise have to be imported from elsewhere.
Retirees who live in Oregon can take advantage of this wonderful bounty by visiting one of their local farmer's markets, where they can pick up fresh produce, meats, cheeses, baked goods, and more right in the state where it was grown or raised.
If you're looking for a retirement option that allows easy access to fresh, healthy food, then Oregon is a wonderful choice.
The Beaver State is definitely a beautiful place to retire, but it's not right for everyone.
If you have your heart set on setting up shop in Oregon, make sure you consider these drawbacks before you make a move:
Difficult Housing Market
The state's housing can be difficult for seniors looking to move, which is one of the bad things about Oregon.
Many seniors wish to downsize to a smaller home when they retire, but with a limited housing supply, finding an affordable house can be extremely difficult and competitive.
For one, there aren't enough homes for sale to meet the demand from homebuyers, so prices have risen far above historic norms.
New housing construction is also on the decline because of zoning regulations.
As a result, it's difficult to find a home that fits within typical retirement budgets or when you're on a fixed income.
This problem is most severe in major cities like Portland, where the median home price is $510,000 as of the first quarter of 2022.
Expensive Cost of Living
According to Upnest.com, Oregon ranks as the fifth most expensive state in the country for cost of living.
If you're moving from somewhere expensive like New York, this may not be a huge shock to you—but you'll still want to be prepared for how little your dollar will buy here.
One example: the average cost of groceries here is 28 percent higher than the national average.
Another: healthcare costs here are almost 25 percent higher than they are in other states.
Risk of Earthquakes
Retiring in Oregon means accepting the risk of earthquakes because it sits on top of several major fault lines, including Cascadia and Juan de Fuca.
The Pacific Northwest has a history of seismic activity dating back centuries. The last major quake occurred in 1700 and measured 9.0 on the Richter scale.
The next big one could happen tomorrow or hundreds of years from now—there's no way to predict when it will occur, so prepare for the possibility that your new home could be damaged by an earthquake during your retirement years.
High Income Tax Rate
Oregon has a high-income tax rate for residents. For example, the top tax rate for people who earn more than $125,000 is 9.9%.
Once you retire and are no longer earning an income in Oregon, you may be eligible for lower rates, but tax rates in this state are higher than average for retirees as well.
If you have been saving for retirement your entire life and worked hard to have a substantial nest egg, this may not be the best place for you to retire.
This can affect your monthly budget severely and may mean that you do not have enough money for monthly expenses or medical bills.
Above Average Crime Rate
The crime rate in Oregon is higher than the national average. Aside from violent crimes, property crimes are on the rise statewide.
This is partially due to drug addiction and homelessness in cities across the state.
When considering moving to Oregon, it might be important to look at crime statistics in the area you plan on living in so that you know what to expect when it comes to safety there.
Traffic Congestion
Congestion on roadways, especially in big cities like Portland, can also be a problem for active seniors who like to stay out and about in their community.
While most major cities have public transportation options, these aren't always suitable for people who need extra assistance getting around or who may require accessible vehicles for mobility purposes.
7 Most Popular Areas to Retire in Oregon
With so many places in Oregon to choose from, it can be difficult to decide where to retire.
To help you make your decision, we've ranked the top seven cities in Oregon based on factors such as overall quality of life, senior population, crime rate, air quality index, and more:
Bend, Oregon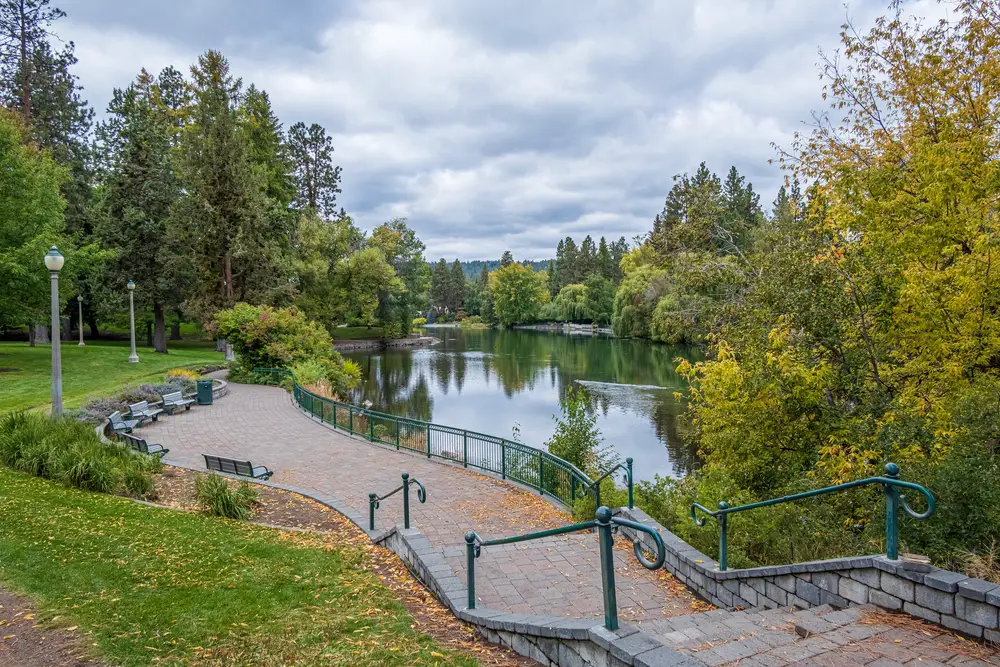 Nestled in Central Oregon between the Cascade Mountains and Ochoco National Forest is Bend—a rapidly growing city with plenty of outdoor recreation opportunities.
The city has a high percentage of seniors—23.8% of residents are 65 and over—and they enjoy a wide selection of amenities geared toward retired life.
You'll find dozens of golf courses, miles of bike trails, and several retirement communities that offer assisted living services.
Bend also has an active arts community with an extensive public art program supported by tax dollars.
Salem, Oregon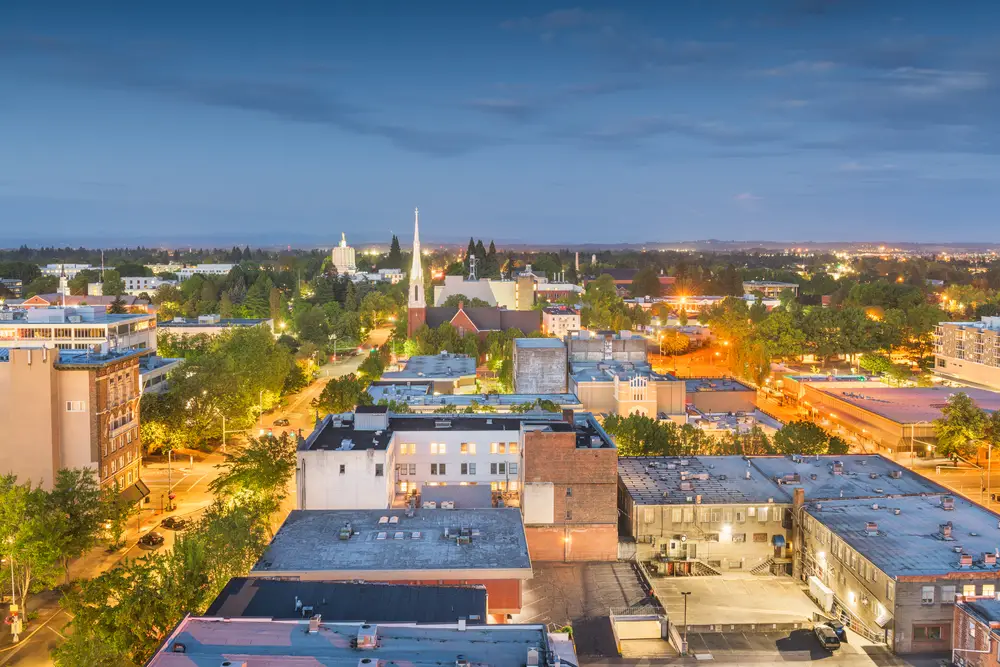 Located about 45 minutes south of Portland along I-5, Salem is home to nearly 154,000 people.
The state capital features beautiful parks, a great downtown area, and plenty of culture and arts.
But it's also a great place to retire because it offers more affordable housing than Portland does.
Eugene, Oregon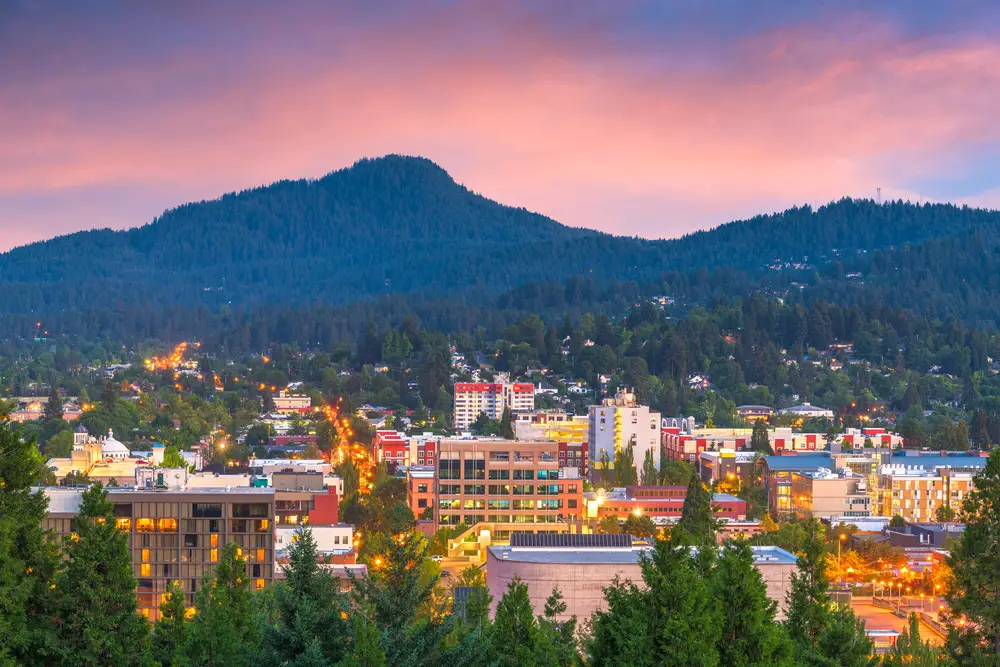 When it comes to the most popular places to retire in Oregon, Eugene ranks among the top choices.
The city has many perks that make it an ideal place to settle down.
For starters, Eugene offers a small-town feel while also providing all of the amenities of a big city. The cost of living is modest and Eugene offers a wide range of housing options at various price points.
Retirees also love that Eugene is home to endless year-round outdoor activities and attractions.
In addition to skiing and hiking throughout the mountains near the town, you can also enjoy fishing along the McKenzie River in springtime or visiting one of the many wineries in the area during summertime.
Corvallis, Oregon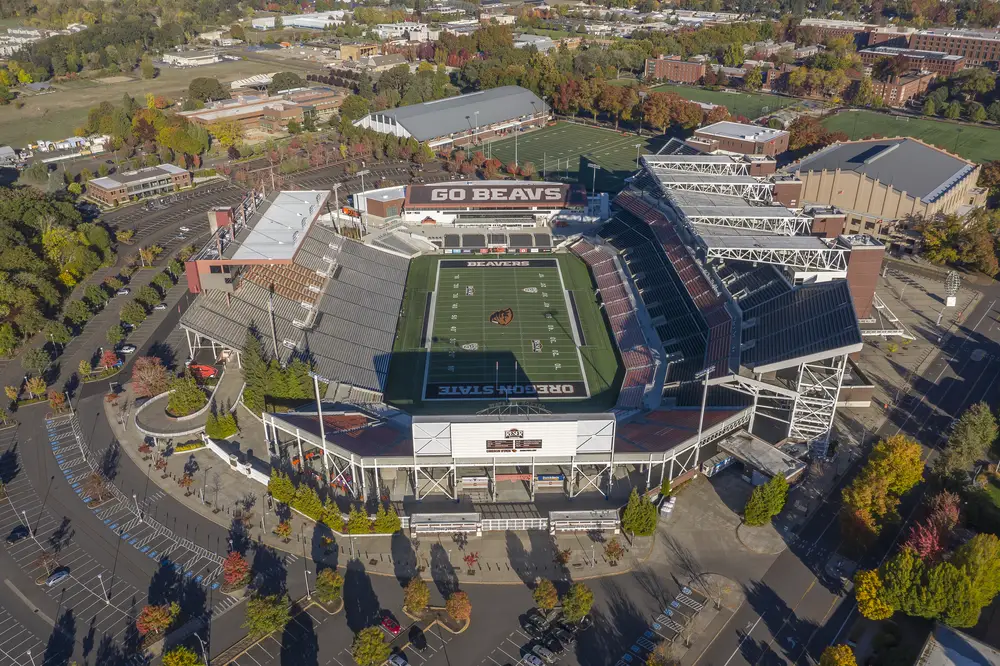 Corvallis is a much smaller city than Eugene, but it has a lot going for it, particularly if you're a retiree who is looking to settle down in a friendly community.
The heart of the city is charming and filled with great shops and restaurants. The cost of living is considerably lower than both Portland and Eugene.
Public transportation isn't as extensive as in some other places, but there are options to get where you need to go.
And, of course, there's the college — Oregon State University — which gives you access to an impressive number of concerts, speakers, and other cultural events.
Medford, Oregon
The city of Medford, Oregon, is a popular retirement destination because it's located in the heart of the Rogue Valley.
This area is ideal for retirees who love to explore new places and are always looking for an adventure.
Medford features many parks, hiking trails, rivers, and lakes that make it a great place to enjoy nature. There are also plenty of opportunities for residents to participate in outdoor sports and recreational activities.
Medford is surrounded by several cities with their own unique character.
Ashland, which is home to the Oregon Shakespeare Festival, offers cultural entertainment throughout the year. Jacksonville is filled with historical landmarks and museums that provide interesting insight into the region's past.
Grants Pass, Oregon
If you're looking for a small town with lots of Southern hospitality, consider Grants Pass.
With a population of around 36,000, it's considered one of the best small cities to retire in Oregon.
The town is located along the Rogue River and has several parks and natural spaces surrounding it.
The nearby Applegate Valley is home to wineries and vineyards that produce some of the state's best wines.
Many retirees choose to live here because of its affordable cost of living, low crime rate, and great weather.
In addition, there are several excellent assisted living facilities and nursing homes here that provide quality care for seniors.
Roseburg, Oregon
This city in western Oregon has a slightly larger population than Grants Pass — about 22,000 people — but it offers many advantages for older adults who want to stay active in retirement.
It's known as being one of the most affordable places to live in the state, with low housing costs and moderate taxes that help keep expenses down.
Roseburg also has many outdoor activities to enjoy year-round. The Umpqua River runs through this area, making it perfect for fishing, kayaking or simply enjoying the scenery.
There are plenty of golf courses scattered around the city, too.
5 Other Great States to Spend Your Retirement
Oregon is one of the most popular retirement destinations in the country.
Still, it's not the only state with great amenities and an accommodating tax structure for retirees.
These five states have many of the same benefits as Oregon and are attracting a lot of retirees for good reasons:
Florida
The Sunshine State has lots to offer: oceans, beaches, golf courses, and more – plus an amazing tax structure.
Florida has no state income tax, which is one reason it's so popular with retirees.
Residents over the age of 65 can also take advantage of exemptions on property taxes and school taxes.
There are also programs to help senior citizens pay for prescription drugs and home-delivered meals.
Virginia
Virginia offers a lower cost of living than many other East Coast states. The state has a low sales tax rate, as well as property tax deductions for senior citizens, disabled veterans, and others.
Virginia is known for its mountains and beaches, with Shenandoah National Park in the northwest region of the state.
New Hampshire
In New Hampshire, retirees get a break from the state income tax.
You can exclude up to $2,400 on your annual pension or retirement income. Retirees also don't pay taxes on Social Security, military pension, or railroad retirement benefits.
The Granite State is one of the healthiest in the country according to America's Health Rankings data from 2014 — and it has been since 1990 — so you can rest assured that you'll receive quality healthcare services at affordable prices here.
Plus, retirees who enjoy spending time outdoors will love New Hampshire for its proximity to the Appalachian Trail and the White Mountains National Forest.
Arizona
Arizona has long been considered a haven for retirees because of its warm weather and low cost of living.
Arizona has below-average property and tax rates compared to other states, with no estate or inheritance taxes.
The state also has a good economic outlook with plenty of job opportunities in healthcare and other high-growth industries, if you ever decide to come out of retirement and join the workforce again.
Minnesota
Minnesota is known as the Land of 10,000 Lakes, but what many don't know is that it's considered one of the best states for retirement because of its above-average amenities and access to health care.
The average cost of living in Minnesota is $46,716 per year for retirees or about $3,893 per month.
Additionally, the state has been recognized as a top destination for older adults to age in place because of its social environment and housing affordability.
10 Things That Make a Place Perfect for Retirees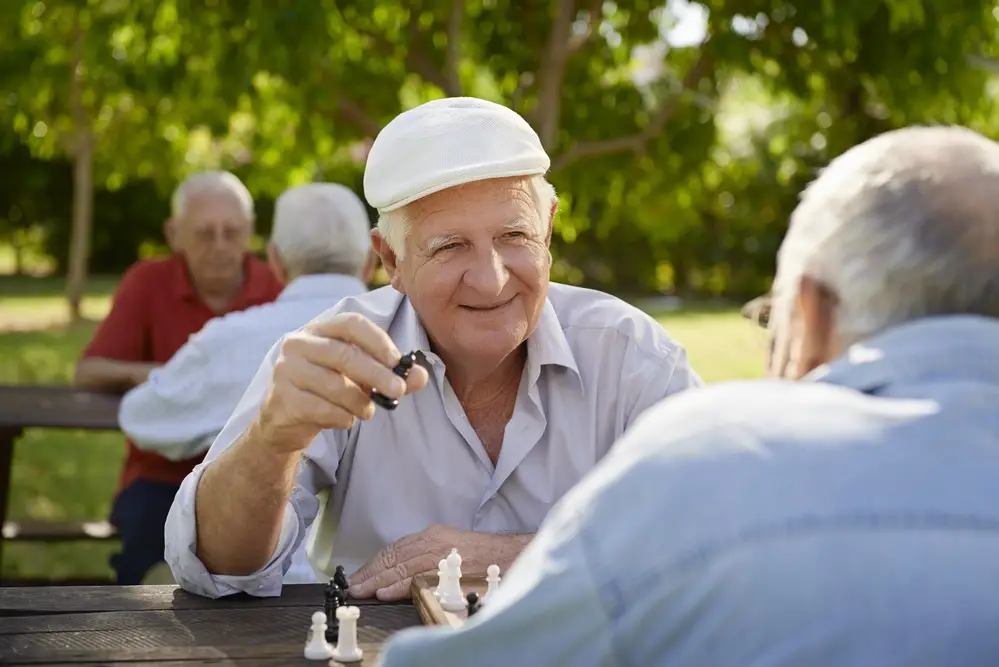 Whether you ultimately decide on Oregon or not, there are 10 things you should look for when evaluating a potential place where you'll retire:
Clean air
One of the most important things you need is clean air, especially if you have health concerns, such as asthma or emphysema.
You can find out how clean the air is in any city by looking at the American Lung Association's State of the Air report.
Plenty of sidewalks and walking paths
Walking is one of the best forms of exercise for seniors, so look for places that provide trails and sidewalks for people who want to get out and get some exercise.
Access to quality healthcare
Even if you're currently healthy, as a senior you'll want access to quality healthcare in case you need it in the future.
Look for cities with many highly rated hospitals and medical facilities.
An active cultural life
Look for a community with plenty of activities that interest you, such as art galleries, museums, music venues, and more.
It's also important that there are activities available specifically designed for seniors so they can participate in special events just for them.
Many interesting restaurants
Who doesn't enjoy a nice meal out? Whether you're looking for fine dining or a quick bite, having plenty of restaurant options is a big plus when choosing a place to retire.
It's also important if you have children or grandchildren who come to visit often.
Low crime rate
Nothing will ruin your retirement faster than living in an unsafe neighborhood.
When researching different cities, check their crime rates online so you can be sure of your safety.
Look at the number of violent crimes per 100,000 residents and do some comparison shopping between places.
Good weather
It's hard to overstate how much nicer retired life will be if you don't have to worry about shoveling snow every winter or moving around in the hot sun most days of the summer.
Look for a place with mild winters and warm summers — and low rainfall all year round is always nice too.
Availability of golf courses and country clubs
Golf courses and country clubs are excellent places for seniors to meet up with friends and make new ones.
They're also great places for seniors to stay active without having to go on long treks through the wilderness — especially if they join a club that has a spa or gym attached to it.
Plenty of senior-friendly amenities in the area
Senior communities tend to have a lot of resources geared toward older adults: grocery stores with senior discounts, restaurants with senior menus, and senior centers where retirees can hang out and make new friends.
The best place for seniors to retire will have all of this close at hand — preferably within walking distance, if possible.
A safe, reliable mass transit system
Even if your retirement budget is limited, it's important to have access to transportation options that can connect you with friends and resources outside your immediate neighborhood.
Ideally, these options should be available at an affordable cost or even free for seniors on fixed incomes.
Verdict: Is Oregon a Good State to Retire To?
You've worked hard your whole life, and you deserve to spend your retirement in a beautiful, comfortable, safe city that's also fun.
Oregon is a fantastic state for retirees, but only if you can afford the high cost of living, housing prices, and choose an area with a low crime rate.
Otherwise, the other states on our list may be a better fit but there are 40+ states you can consider.
To help you narrow down your options, evaluate each place based on the 10 factors we discussed above.