Book: The Millionaire Next Door (1996).  One of the first books I read when I started on the road to fiscal fitness. In The Millionaire Next Door, authors Thomas J. Stanley and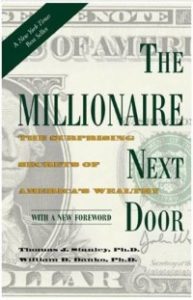 William D. Danko summarize findings from their research into the key characteristics that explain how individuals became wealthy, defined as those with a net worth of at least $1 million.
As might be expected, their results reveal qualities of this group that stand in stark contrast to the earn-and-consume behaviors embraced by most. The wealthy employ principles such as wisely choosing their professions, eschewing conspicuous consumption, living below their means, and being proficient in targeting marketing opportunities.
The authors make clear that anyone can become wealthy, provided they are disciplined in their approach and determined to persist in their efforts.  While some of the examples may be a tad outdated, as the book was originally published nearly 20 years ago, the overarching principles to acquiring wealth remain the same.
The Money Saving Dude notes that The Millionaire Next Door isn't your typical "how-to-get-rich" book. It's a personal finance book that will change the way you think of millionaires, and just like any other great finance book, it does not lack valuable financial lessons that you can practice doing in your own life.  For a detailed look at the book, I encourage you to check out The Millionaire Next Door Book Review.

Website: Money As You Grow.  The site was born as an initiative from the President's Advisory Council on Financial Capability (PACFC), which was created by Executive Order 13530, signed by President Barack Obama on January 29, 2010.  Its charter is to advise the President on promoting and enhancing financial literacy and capability among the American people.  Moreover, one of the key objectives of the PACFC is to find ways to improve the financial capability of young Americans.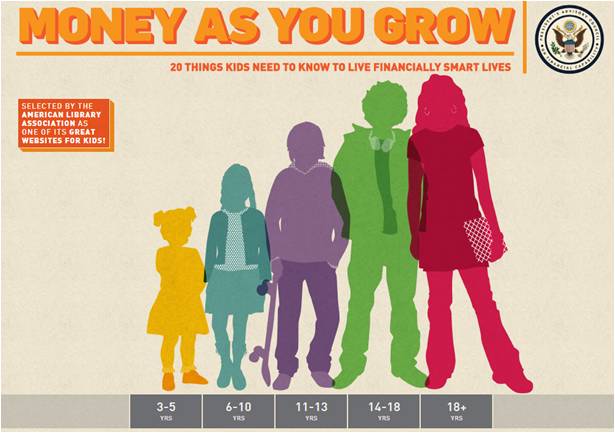 To that end, the site highlights "20 Things Kids Need to Know to Live Financially Smart Lives" and supports those ideas with activities spread across five age groups (3-5, 6-10, 11-13, 14-18, 18+).  Parents and Grandparents can use the site to start a dialogue about money and teach kids important lessons about saving, making smart financial decisions, and avoiding debt.