The first 25 readers to leave a comment will win a complimentary copy  [Kindle Format] of Sin City Greed. The giveaway begins on 16 March and ends on 18 March (10:00 p.m. EDT) or when all 25 prizes have been claimed, whichever comes first.
While I enjoy running the blog, last year I began looking for a different way to be more creative and communicate with those interested in personal finance. That idea led to my first novel, Cream City Hustle. The idea behind the book was simple; communicate personal finance concepts and ideas within the framework of a fictional thriller.
The story's protagonist, 20-year old Marcus, faces the same challenges many other Millennials are now confronting: building and maintaining an emergency fund, controlling debt and starting the process of saving for retirement. Fittingly, those practices and concepts, among others, associated with those objectives are touched on in the book.
My second novel, recently released, is titled Sin City Greed. In this tale, a group of senior citizens hatch a scheme to recover their stolen money. As I describe the book on Amazon, "In the heat of the Las Vegas Valley, American Greed(the CNBC show) meets Ocean's Eleven." As one might imagine the personal finance challenges for a 60-year old are different than those of a 20-year old. Among other personal finance concepts and practices, the protagonists in this story discuss the value in developing steady streams of retirement income, the value of entering retirement without a mortgage, the potential advantages of long-term care insurance and as alluded to in the title, greed.
If you are here, I assume you are interested in personal finance. If you are also interested in a good thriller, I hope you will take the time to check out one or both. What follows are excerpts from both novels:
Sin City Greed — Available in Kindle and Paperback Editions at Amazon.com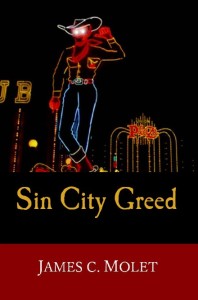 Las Vegas. Near the intersection of Paradise and East Flamingo Roads. From his second story office Carlton F. Morrison III, the founder and CEO of Blackstone Financial Services Group, watched as the sun set on the mid-June day. Soon the distant lights would shine bright and the world famous strip would come to life.
"Do you require anything else this evening, Mr. Morrison?" Darlene, his administrative assistant, asked as she rapped lightly on his open door and peeked through the doorway.
"No, Dear, nothing else tonight. I just need to tie up a few loose ends and then I will be out of here. Have a good night."
"Thank you. You too, Mr. Morrison."
He'd made the decision a few days ago but had put off actually doing it. Now there was no time. He had received the second notification from Bank of Las Vegas earlier today. If he didn't get a significant infusion of capital soon, the boutique investment advisory firm he had spent 17 years building from nothing would wither and die here in the Nevada desert. He required additional capital and they required proof of liquid assets before they would increase his credit limit. He had three days.
"How did it come to this?" Carl asked the empty room. Predictably, no answer was forthcoming. It seemed like a lifetime ago that BFSG was humming right along. Both Divisions, Equities – where most of his client's money was invested – and Real Estate – where most of the firm's money was invested to fund internal operations – were performing spectacularly. That was no longer the case. While the Equities Division continued to post strong returns, the Real Estate Division had been devastated over the last few years as he had increased his real estate holdings, a mistake in hindsight, just as the meltdown in the Las Vegas housing market accelerated.
Cream City Hustle — Available in Kindle and Paperback Editions at Amazon.com
Near West Side. Chicago. To the casual observer, not much ever happened near the intersection of South Keeler Avenue and West Roosevelt Road. An abandoned warehouse fills one corner, stretching half a block in either direction. Empty lots littered with trash and empty bottles, long ago abandoned by would be entrepreneurs, occupy two corners opposite one another. The last corner is home to a run-down strip mall populated by a hair salon, a barber shop, a Bar-B-Q joint and a storefront church where the Southern style gospel music that escapes through the entrance is the only source of inspiration in an otherwise grim reality. Near West Side, Chicago is not a Norman Rockwell image of America.
On this sleepy Thursday afternoon however, something did happen. Anyone who had stumbled into the warehouse and back into the room that formerly housed the Human Resources department, would have been witness to justice, as administered on the cold, hard streets of Chicago. He never would have imagined, at 27 years of age, that he would pee himself. But that was exactly what had happened. After binding his hands and feet, Drake had ordered him to his knees as he pulled out a Smith & Wesson 9mm.
"I would never steal from Caine, Drake. You know that!"
"Your lies fall on deaf ears, L.J. We know you've stolen and you know the price."
As the word 'price' escaped Drake's lips, L.J. saw Caine, or more accurately, Caine's shadow enter the room. On his knees, in the middle of this room and with his head forced down by the barrel of the 9mm, he couldn't see anything that was higher than two feet off the floor. However, the width and height of the shadow – the sheer girth – combined with the situation that brought him here, told him all that he needed to know. It was Caine. That was when his bladder betrayed him and he peed himself.