Movie: Margin Call (2011).  Starring Kevin Spacey, Paul Bettany, Jeremy Irons, Zachary Quinto, Stanley Tucci, Simon Baker, and Demi Moore.  At a respected financial company, one of the victims of the downsizing is the risk management division head, who is working on a major analysis just as he is given his walking papers.  His protégé completes the analysis and frantically calls his colleagues in the middle of the night to apprise them of the impending disaster.
What follows is a long night of panicked double checking and double-dealing as the senior management prepare to do whatever it takes to mitigate the debacle.  Throughout the process, a handful of conscientious comrades find themselves dragged along into the unethical abyss and must choose between money and morality.
Along with Wall Street, a movie I have seen ~ 150 times, this is my favorite Wall Street/Business/Finance related movie.  Truly a must see!
Available for streaming on Netflix, iTunes, Vudu, Amazon, and YouTube.
Movie: Boiler Room (2000).  Starring Giovanni Ribisi, Tom Everett Scott, Nia Long, Nicky Katt, Scott Caan, and Vin Diesel.  The term 'Boiler Room' is often used to refer to a less than reputable call center selling questionable investments.  In this movie, Giovanni Ribisi plays Seth, a college dropout that gets a job as a broker for a suburban investment firm.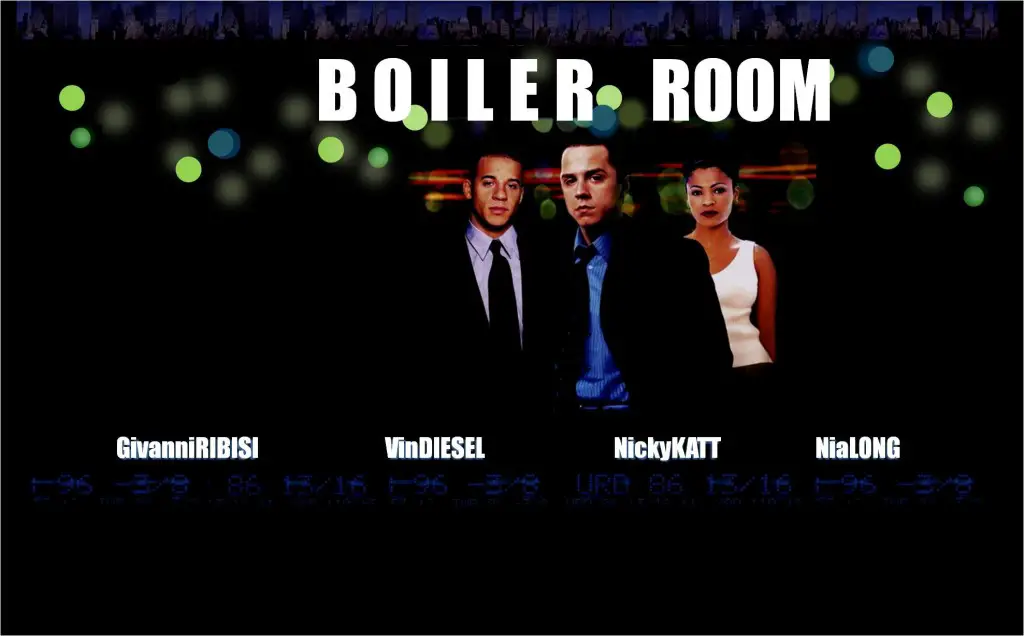 The job puts him on the fast track to success, however, the job is not be as legitimate as it first seems.  Don't miss the cameo performance by Ben Affleck, channeling Alec Baldwin's character in Glengarry Glen Ross … another excellent movie dealing with the pressure of being a salesman.
Available for streaming on iTunes, Vudu, Amazon, and YouTube.