You've considered free product testing at home to make extra money. However, the lack of reliable resources explaining how to get free products to review on YouTube, Facebook, or Instagram, among other social media platforms, creates uncertainties.
Although most free product testers work part-time, some earn around $38,500 to $51,000 per year assessing products and writing reviews full time. You can take on as much or as little work as you want.
The industry definitely offers multiple lucrative opportunities. Most first-timers only fail to get their first gig because they don't know how to approach companies for paid product testing jobs.
If you find yourself in a similar situation, don't worry. We can help! Our team scoured the web for inside information on legit product testing websites, applications to product testing jobs, and free products for writing reviews. 
This comprehensive guide shows the step-by-step process of becoming a product tester. You'll know which companies hire product testers, how much they pay, and what you need to qualify.
We researched potential companies so that you wouldn't have to. That way, you can solely focus on sending applications, getting free products, and qualifying for paid product testing.
Read the whole guide. Otherwise, you might end up wasting your time with stingy companies and low-value products.
Let's dive into the world of product testing!
Why Companies Send Free Products for Review
Are product testers legit jobs? Yes, product testing is a legitimate job. Companies typically hire testers to assess their products for quality, functionality, and safety before market launch.
The testing process varies on a case-by-case basis. However, most brands would send free products to qualified testers and wait for the requested review before fulfilling the agreed-upon payment conditions. 
If you're reviewing products that only cost a few bucks, you'll get to keep them, plus any fees discussed. However, for high-value items (i.e., smartphones, electronic devices, designer cosmetics), the company might not pay you anymore if they'll let you keep the product you reviewed.
5 Legit Companies That Offer Free Products or Pay for Reviews
With dozens of product testing opportunities on the market, it can be overwhelming when you're checking your options for the first time. Most newbies don't even know where to start looking.
To help make your search quicker, we made a brief roundup comparing the most widely known and trusted companies offering free products and payments for reviews:
Daily Goodie Box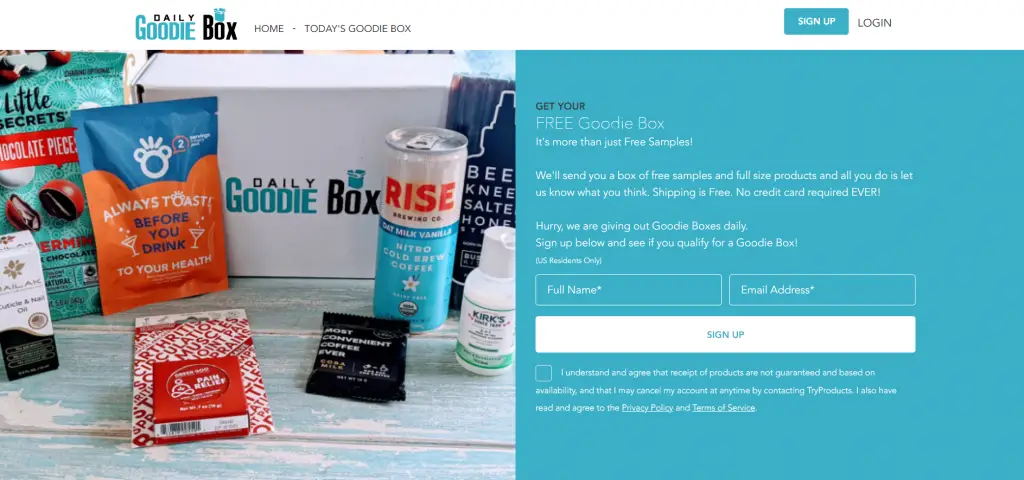 Daily Goodie Box ranks among the most widely known product testing platforms. The company sends out customized goodie boxes of various snacks, treats, and candies every day. 
Also, you can create an account for free. Unlike other similar platforms, you wouldn't have to pay for account fees or site maintenance charges.
The company randomly selects winners. To give a fair chance to all users, the team only allows repeats every couple of weeks.
Types of Products Reviewed
Daily Goodie Box has 300+ brand partners committed to sending out a total of 400+ products for testing regularly. These goodie boxes consist of:
Candies
Chips
Chocolate bars
Coffee products
Gum
Milk
Vitamins
Potential Savings and Earnings
Most goodie boxes cost more than $20, so you can save a couple of hundred bucks annually if you receive a goodie per month or so.
How to Become a Daily Good Box Product Tester
Step 1: Head over to the site's sign-up page and submit your name and email address. Next, input your preferred login details.
Step 2: Read the terms and conditions before proceeding with the application. Also, note that Daily Goodie Box doesn't charge account fees, so you shouldn't need to link your credit or debit card. 
Step 3: Wait for the confirmation email. You'll get an email if your account gets to test a new goodie box. Selections happen daily.
PRO Tip: To boost your chances of getting picked, engage with the brand's social media accounts. They often give freebies to active followers.
Try Products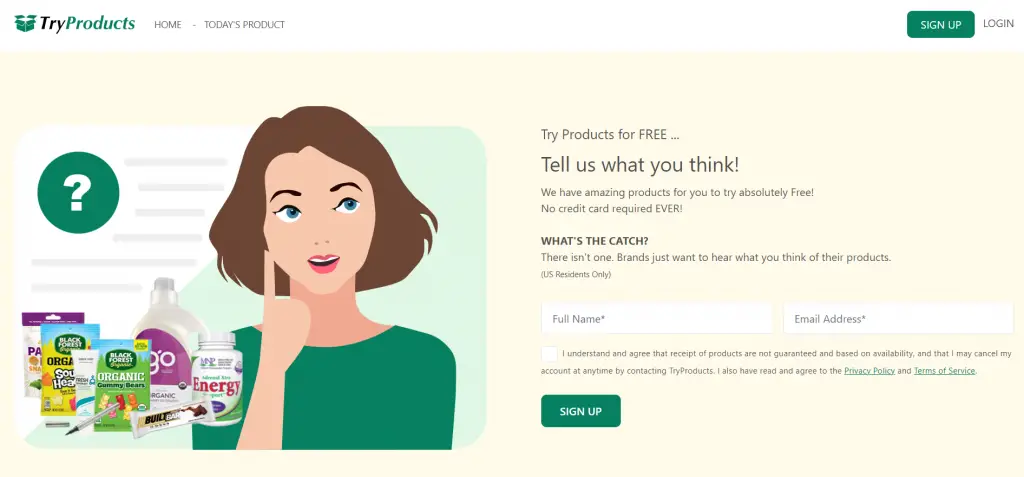 Try Products is the sister company of Daily Goodie Box. Not only do they have an identical website layout, but they also follow the same guidelines.
For instance, they both give out free products daily. They use the same lottery-style setup to pick random users to review various products.
Also, both platforms have no account fees. You can even sign up for both Daily Goodie Box and Try Products if you want.
Types of Products Reviewed
Try Products partners with 300+ brands to connect its massive database to 400+ various products, which include:
Candies
Cooking products
Cosmetics
Drinks
Hygiene products
Snacks
Supplements
Toiletries
Vitamins
Potential Savings and Earnings
Most listed products cost upward of $10 to $20. However, Try Products picks testers randomly. As such, your savings and earnings per month would depend on how frequently you get picked.
How to Become a Try Products Tester
Step 1: Head over to their sign-up page, then input your name and email address. You don't need to pay for anything.
Step 2: Read their terms and conditions, then hit sign up. You should receive an email regarding your application status shortly.
Step 3: Wait for your turn to receive free products. Although Try Products uses randomizers to choose between testers, they often prioritize new accounts.
Gathr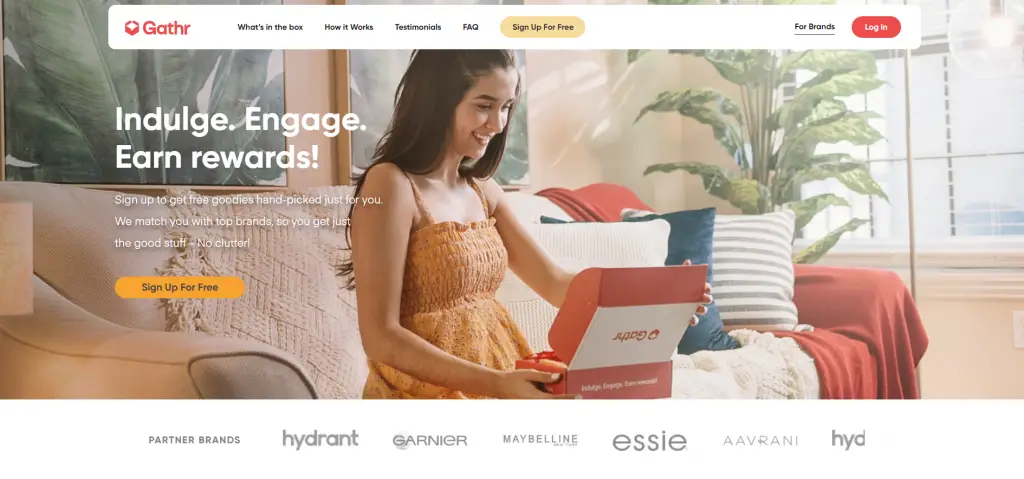 Gathr is a relatively new product testing platform. It initially operated as GathrU and catered solely to university students, but it soon expanded its market and rebranded as Gathr.
Despite the rebrand, Gathr maintains the same system. It regularly selects a new batch of accounts to test various products, from toiletries to snacks.
Also, Gathr doesn't charge setup fees. You'll follow the same streamlined sign-up process, which typically takes less than two minutes.
Types of Products Reviewed
Gathr partners with brands from varying industries to offer the following types of products:
Bath and body care
Beverages
Cleaning supplies
Fragrance
Grooming tools
Haircare products
Healthy food
Makeup
Nutritional supplements
Personal Care
Pet supplies
Skincare
Snacks
Potential Savings and Earnings
The listed products from Gathr start at $5, so a box of goodies would save you at least $20. Also, most brand partners cover shipping fees.
How to Become a Gathr Product Tester
Step 1: Head over to the website's sign-up page and input your preferred login credentials. You can log in using Facebook or Google if you want.
Step 2: Read the terms and conditions, then press next. Afterward, the site will prompt you to a category page where you'll choose the types of items you're interested in (i.e., fragrances, hair care, snacks).
Step 3: Wait for Gathr to match you with a suitable brand. Due to the high volume of testers and limited freebies, you'll likely only get a match once a month.
Step 4: Receive the box of goodies, then answer the survey accordingly. You'll also see a QR code that prompts you to Gathr's community and social media pages.
Product Testing USA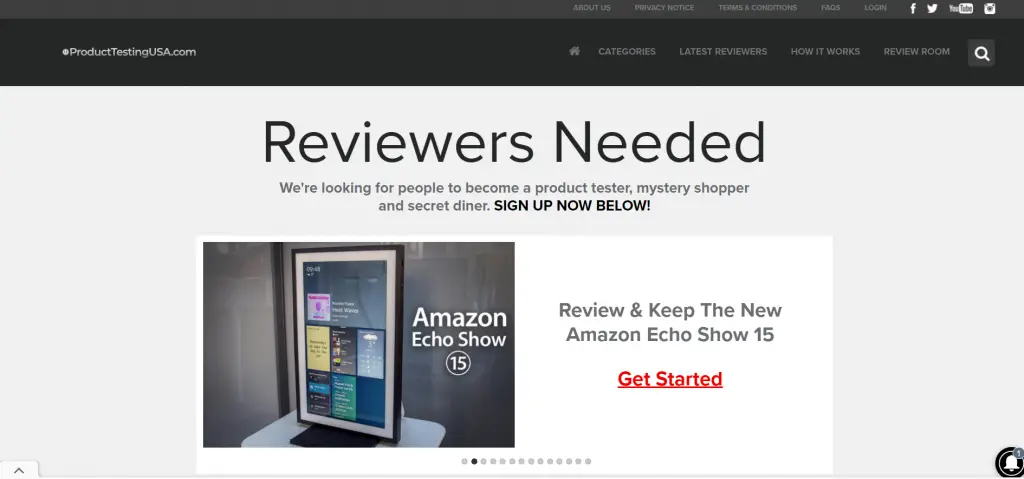 When it comes to free product testing electronics, cooking appliances, smartphones, laptops, gaming consoles, and other high-value items, no other platform competes with Product Testing USA. It has already sent hundreds of expensive gadgets and appliances for free reviews to date.
Sadly, not many users have actually received freebies. The platform offers expensive items, so it's only natural that its team follows a stringent verification process when filtering applicants. Not everyone can get a free laptop.
However, you can try the Mystery Shopper and Secret Diner features while waiting. Product Testing USA gives out massive discounts for users to shop or dine at partner establishments. Some offers make your meals virtually free.
Types of Products Reviewed
If you've grown tired of the low-value, unappealing free products for reviews on Amazon and other shopping platforms, try Product Testing USA. They carry:
Apple products
Branded smartphones
Cooking appliances
Gaming consoles
HVAC appliances
Luxury cosmetics
Office products
Video games
Potential Savings and Earnings
The selection process is extremely competitive. However, you can save thousands of dollars' worth of goods if you qualify for premium items like iPhones, tablets, laptops, and gaming consoles.
How to Become a Product Tester for Product Testing USA
Step 1: Select the item that you want to test, read the terms and conditions, then press the Sign Up button.
Step 2: Input your details, such as your name and full name. You'll also have to tell something about yourself so that the screening team can assess you appropriately.
Step 3: Wait for the confirmation. After submitting your information, all you can do now is wait and hope that your application pushes through. Of course, you can try other products as well in the meantime.
Step 4: If your account gets picked, you'll receive a standard questionnaire to finalize your application. 
Step 5: Finally, it's time to review your free product. Most brands pay for shipping, but winners from rural, isolated areas might need to cover some extra fees.
Home Tester Club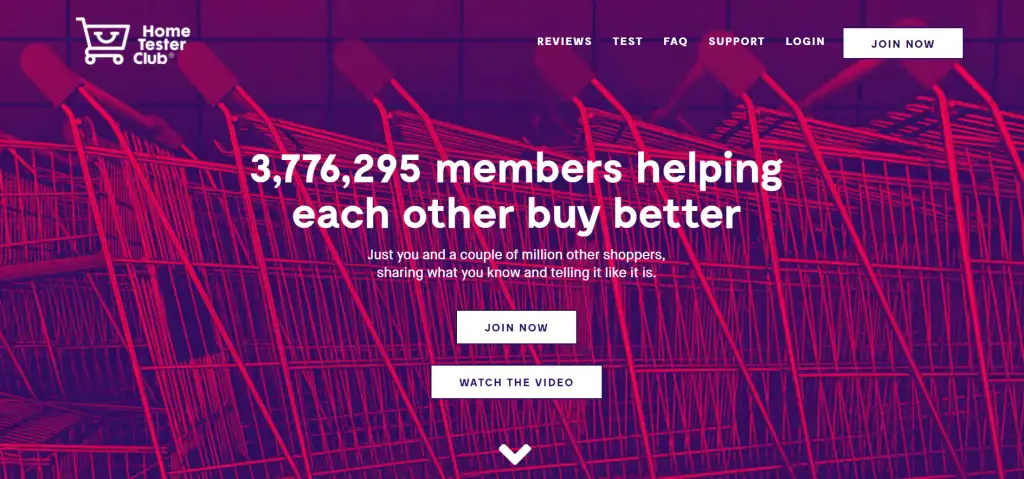 International users exploring free product testing at home should try Home Tester Club. It ranks among the handful of legitimate product testing platforms that caters to areas outside the US, such as:
Australia
Brazil
Canada
China
France
Germany
India
Philippines
UK
Admittedly, its massive database creates a lag in between freebies. To ensure that every account gets its fair share of freebies, you'll only receive product testing orders every month or two.
However, you can join sitewide games and contests. They're pretty challenging, but the rewards and prizes are definitely worth the hassle.
Types of Products Reviewer
Home Tester Club varies brands based on your location, but you can expect most freebies to fall under:
Baby and toddler toys
Beverages 
Chilled and frozen foods
Cleaning items
Food Pantry essentials
Hair and beauty products 
Health and hygiene products
Household cleaning
Pet care
Potential Savings and Earnings
Home Tester Club carries a diverse range of products, from $1 bars of soap to $20 pet care items.
How to Become a Home Tester Club Product Tester
Step 1: Head over to the sign-up page and log in with your Facebook or email account. Next, input your preferred login credentials.
Step 2: Select your preferred categories and answer a few questions about yourself. The screening team will match you with the products they think suit you.
Step 3: Wait for a confirmation email from Home Tester Club. You'll need to provide some additional personal information and details if your account gets selected for product testing.
Step 4: Receive and review the products. Your freebies will come with a set of instructions telling you to share your experience, rate the products received, and engage with the Home Tester Club community.
Approaching a Company for Product Reviews
If the companies that you want to get free products from weren't mentioned above, you can approach them directly. Here are some tips on how to do that:
Step 1: Research Your Prospects
Make a list of bands whose products you want to test. Research their target market, demographic, and product lineup, then assess if you can provide accurate, helpful feedback.
Also, avoid upscale brands selling high-end products. Let's face it—most businesses that you reach out to will only agree if the products you're asking for only cost a few dollars.
Step 2: Search the PR Agent
Don't just message the company's contact page—worse, their customer service team. Direct your pitch toward the correct department. 
Look up the person in charge of the company's PR, marketing, and product development. 
You can use Facebook, Google, or Instagram as a starting point, but try to send your pitch via professional platforms, such as their LinkedIn account or work email.
Step 3: Send Your Pitch
Once you find the person that you need to contact, it's time to draft your pitch. Remember not to ask for free products right from the get-go. Otherwise, you'll just get ignored.
Keep in mind that you're sending a cold pitch. The person on the other end of the screen will only give you a chance if you offer something of equal value.
Here's where you can show off any relevant experiences. Companies typically agree to product testing orders if the applicant pitching has a social media following or adequate knowledge about their products and competitors.
Note that simply "loving" a brand doesn't qualify you for product testing.
Step 4: Ask for Sample Products
After sending you an engaging, compelling pitch, write a brief, convincing paragraph asking for free samples. Again, assess the value of your offer. 
You don't necessarily need to be a widely known influencer, but you'll need to bring something to the table.
Tips to Get Picked for Legit Product Testing Gigs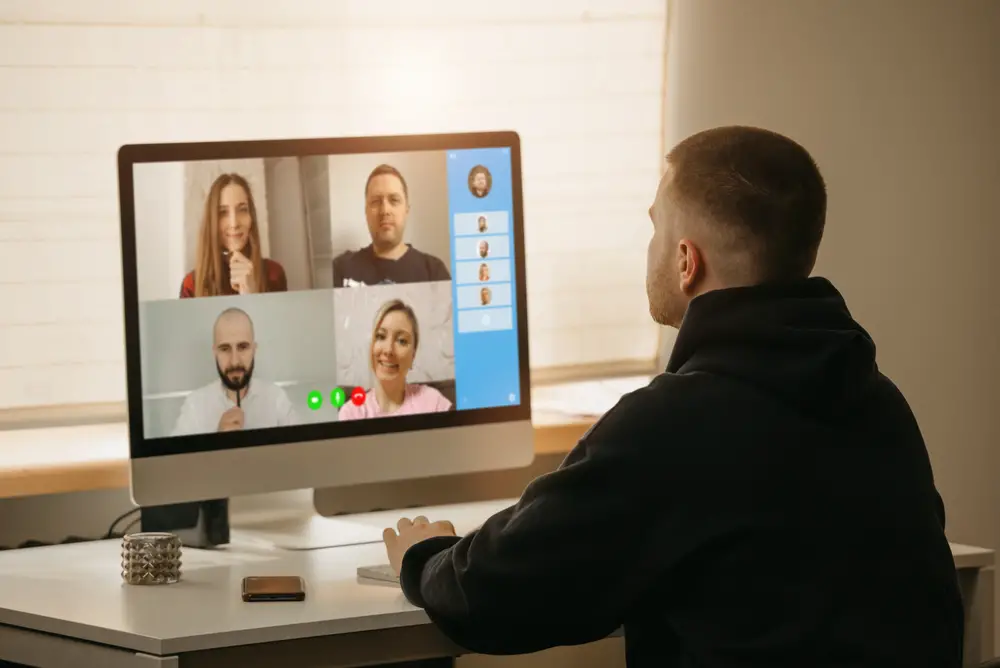 There are several ways to get free products to review. However, you can maximize your chances on almost all platforms by following these tips:
Creating a New Email Address
You don't necessarily need a company email address. However, avoid using unprofessional, hard-to-read handles. 
We suggest creating a new email account altogether. Not only will a professional-sounding handle set you apart, but dedicating an entire account to product testing will also make it easier to sort through important conversations.
Submitting Applications Promptly
Although companies take weeks to process applications, they often close listings once they've received enough applicants. Send your requirements as soon as possible. 
Otherwise, the admins managing the product testing orders might not even see your application. Remember that these companies receive thousands of emails daily.
Completing Reviews Properly
Increase your chances of getting multiple product testing orders from the same brands by submitting accurate, in-depth reviews. 
Don't just voice your thoughts. Clearly explain how the product reviews rank based on the criteria provided. Avoid ambiguous statements.
Also, accomplish all surveys and forms properly. Surveyors can tell if you read the order guidelines from start to finish or if you just skimmed them.
Keeping New Product Features to Yourself
Never disclose new product features to anyone, not even your friends. Most product testing gigs will require you to sign a non-disclosure agreement (NDA) prohibiting you from exposing the company's intellectual property.
Violating your contract will automatically lead to termination. In the worst-case scenario, the company could file a lawsuit against you for monetary damages.
Selecting Products You're Familiar With
Companies typically choose applicants with relevant industry experience, so make sure you match your prospective brand's buyer persona.
Yes, unfiltered reviews give companies a fresh perspective. However, you'll need adequate knowledge to create informed, fact-based assessments on any product.
For instance, let's talk about cosmetics. If a lipstick brand needs amateur reviews on a new product's staying powers and overall aesthetic, it will reach out to women who don't often use makeup—not teen males.
Staying Cautious
Don't get greedy. Product testing opportunities promising free smartphones and expensive gadgets might seem attractive. However, some of them might be scams.
If the gig comes from an unverified website outside our list and their job compensation sounds too good, reconsider your application. Objectively assess every offer that comes your way. 
Also, stay away from any offer that requires any form of payment. Legit product testing companies will never ask you for money, whether for so-called reservations or down payments.
Getting Paid to Test and Review Products at Home
Explore all the opportunities we mentioned above. Review their guidelines, then see which ones match your experience, skillset, and payment preferences. Don't limit yourself to just one or two options. 
Also, try taking on multiple clients to maximize your product testing rewards. Once you've decided on a niche, zero in on it and reach out to all the reputable companies and third-party agencies hiring product testers.
Trust us—most companies take weeks to process applications. Building a steady stream of orders in your queue minimizes your downtime while waiting for new products to review.