If you've been looking for ways to make some extra cash, then you may have heard that you can make good money driving for Uber Eats. Some Uber Eats drivers show off their earnings of $1,000 or more per week on social media, and you may be wondering if this is something that's possible for you too.
But is it true? Can you really make $1,000 a week driving for Uber Eats? The answer is yes, but it's not as easy as just signing up and hitting the road.
In this step-by-step guide, we will discuss the basics of how to get started and how much money you can expect to make delivering for Uber Eats. 
Based on the feedback and reviews of real Uber Eats drivers, we're also going to break down what exactly you need to do to maximize your earnings as an Uber Eats delivery driver.
So, whether you're wondering if you can make a living off Uber Eats or you're looking for ways to increase your earnings, this article is for you! Let's get started.
Step 1: Sign-up as an Uber Eats Delivery Driver
The first step is to sign up for Uber Eats as a delivery driver.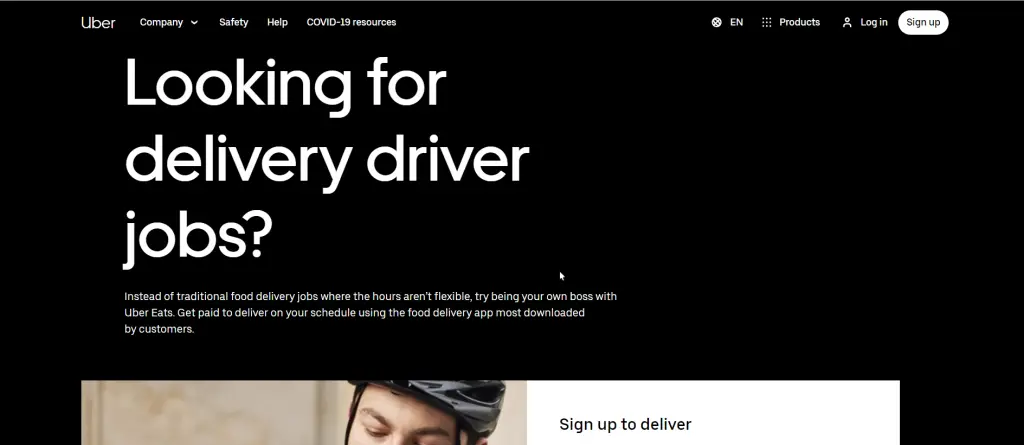 So, what is Uber Eats? Uber Eats is a food delivery service that allows customers to order food from local restaurants and have it delivered to their doorsteps.
If Uber Eats is available in your city, you can download the app on your phone on iOS or Google Play and follow the instructions to apply as a driver. 
Depending on where you live, you can apply as an Uber Eats delivery driver if you have a car, a scooter, or a bicycle. 
Take note that the requirements are different depending on your mode of transportation.
Uber Eats Car Delivery Driver Qualifications
You must meet the minimum age to drive in your city.
You must have a 2-door or 4-door car.
You must have a valid driver's license in your name.
You must submit your Social Security number for background screening.
Uber Eats Scooter Delivery Driver Qualifications
You must be at least 19 years old. 
You must have a motorized scooter under 50cc.
You must have a valid driver's license in your name.
You must submit your Social Security number for background screening.
You must choose "Delivery by scooter" under transportation methods when signing up.
Uber Eats Bicycle Delivery Driver Qualifications
You must be at least 18 years old. 
You must have a government-issued ID.
You must have a valid driver's license in your name.
You must submit your Social Security number for background screening.
You must choose "Delivery by bicycle" under transportation methods when signing up.
If you meet the qualifications listed above and are able to pass the background screening, then you can start working as an Uber Eats delivery driver.
Is Uber Eats a good side job? Yes. 
The main advantage of being a delivery driver for this platform is that you're your own boss. You can work whenever you want and set your own schedule, making it ideal if you have another day job at the same time.
How about for people who are looking for this gig as their main source of income? Can you make a living off Uber Eats? 
The answer is also yes. There have been many success stories of people who have made a full-time income driving for Uber Eats. 
But as with anything, there are also some drivers who haven't had as much success.
In the next steps, we'll talk about how you could make this job your primary source of income. and how to maximize your earnings as an Uber Eats delivery driver.
Step 2: Understand the Pay Structure of Uber Eats and Calculate How Much Money You Can Make
How can you make $200 a day with Uber Eats? Is it possible to make $1,000 a week delivering with Uber Eats? 
These are just some of the frequently asked questions from people who are interested in becoming a delivery driver or from newbie drivers who are struggling to reach this amount.
Before we answer these questions, it's important for you to have a clear understanding of how much you can make as an Uber Eats delivery driver. So, let's take a look at the pay structure for drivers.
The way you're paid as an Uber Eats driver is based on the distance of your delivery and the time it takes you to make the delivery.
When you get a request, it will show the following information:
Guaranteed Minimum Fee with an indication if it includes expected tip
Estimated delivery time in minutes
Distance and map showing the delivery address from the restaurant pick-up point
For example, the request can look like this:
$4.75 includes expected tip
16 minutes (1.9 mi) total
Pick up and drop off address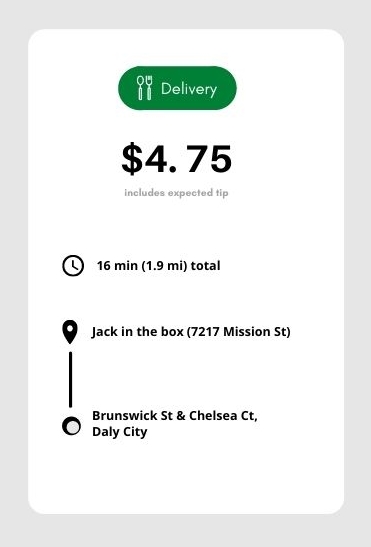 The Guaranteed Minimum Fee is calculated to include the following:
Base Fare – this fare includes the pick-up, drop-off, time, and the distance covered.
Trip Supplement – an additional amount that could be included on top of the base fare to make the trip more attractive to drivers.
Promotion – Surge and Boost promos that are available in selected cities during high-demand delivery times and holidays.
Tips – 100% of the tips go to the delivery driver and customers have 1 hour to adjust their tips.
Average Uber Eats Delivery Drivers Pay Per Hour
According to the top job site Indeed, an Uber Eats delivery driver can earn an average of $14.65 per hour, with $7 as the minimum and $30 as the maximum. 
Another job site Glassdoor estimates the hourly earnings of Uber Eats drivers at $16 per hour. 
So, if you want to make $100 with Uber Eats, it will take you 6 to 8 hours if you're earning like the average delivery driver.
You have to be aware, however, that as an independent contractor, you have to pay for your own operating expenses, which include the cost of your vehicle, maintenance, gasoline, etc. You also have to be responsible for paying your own taxes.
So, when you factor in gas, taxes, and other expenses, Small Business Trends estimate earnings to range from $8 to $12.
However, this isn't set in stone. Depending on your location and how you strategize your delivery approach, you can earn as much as the $30 per hour earned by top drivers.
Calculating How Much You Can Make as an Uber Eats Delivery Driver
Now that you know how the pay structure works, it's time to calculate how you can make $1,000 a week as an Uber Eats delivery driver. For the purpose of this article, however, let us calculate your potential earnings BEFORE expenses and taxes.
If we use the $15 per hour average as a benchmark of your hourly income, this means that to reach $1,000, you will need to work:
67 hours a week – $15 x 67 = $1,005 or 
9.6 hours a day for 7 days a week or 
13.4 hours a day for 5 days a week
Now, if you don't have the time or the energy to work that many hours, you have to set a target of increasing your minimum hourly earnings. If you can earn more than $15 per hour, this will greatly reduce the time that you need to work.
If you earn $20 per hour, this means only working 50 hours a week. While $30 per hour means only working around 34 hours a week.
So how can you achieve that? The next steps will show you how.
Step 3: Set Your Working Schedule to Peak Delivery Times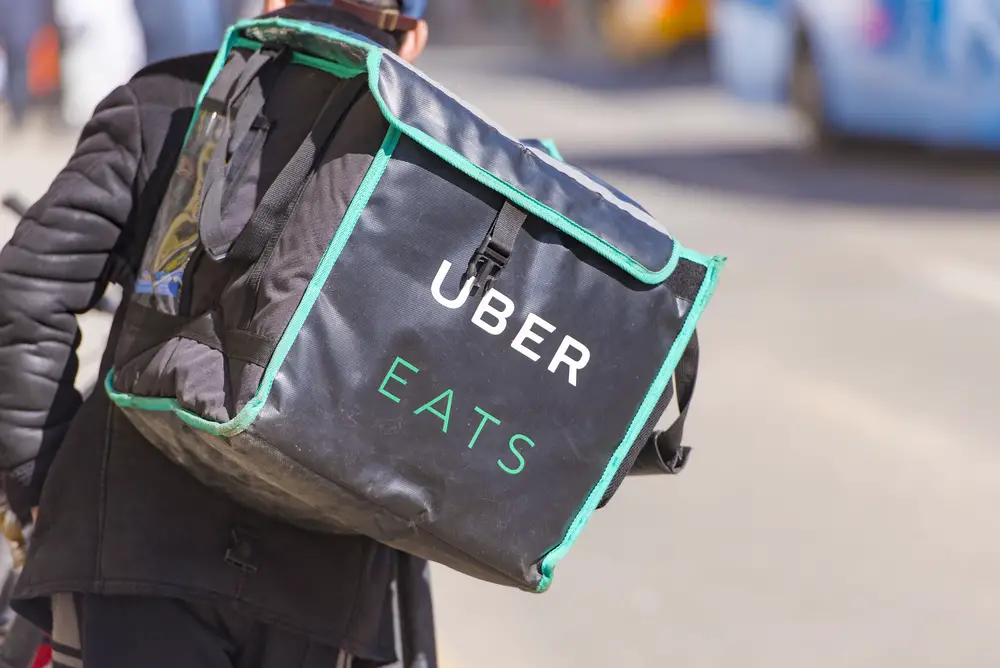 One of the best tips from seasoned delivery drivers is to schedule your shift to peak delivery times. This will depend on your city or area so it will be useful to research beforehand so you know when are the busiest times for deliveries.
Here are a few tips that can help you decide on how to choose your working hours with Uber Eats:
Work During High-Demand Delivery Periods
Generally, the lunch and dinner hours plus the weekends would be the busiest periods with a steady flow of orders. If you only have a couple of hours free a day or just looking for a way to make money in your free time, choose to work during these periods.
Avoid Traffic Hours that Can Slow Down Your Delivery
You would also want to take into account the traffic conditions in your city. Knowing when the rush hour is and avoiding those areas can help you stay on schedule with your deliveries. 
Consider Working the Late Night Shift
If you're considering an 8- to 12-hour shift, working from 8 p.m. to 8 a.m. is a good option. This will allow you to cover dinner orders, late-night orders, and the morning breakfast rush as well. 
The advantage is that since there are fewer drivers on the road, this will enable you to complete more deliveries faster.
Know When Boost and Surge Promos Are Taking Place
Boost and Surge promos are periods when Uber offers a multiplier on the regular fare. This means that you can earn more for each delivery. 
To make sure that you're taking advantage of these promos, be sure to check the app regularly so you'll know when to start working.
Step 4: Map Out Your Delivery Area
Another important factor to consider is where you want your service area to be. Mapping out your delivery area means identifying certain places, streets, and communities where you want to pick up and drop off food deliveries.
Another way to look at it is to think of your delivery area as your 'turf'. If you're working within a certain area, it would be more advantageous to concentrate your deliveries within that area. 
This will help minimize the time spent on traveling from one order to another. For instance, some drivers only stay within a 5- to 8-mile radius.
You'll also be able to familiarize yourself with the restaurants, restaurant staff, and even frequent customers in that area. When you have turf, this can make it easier for you to speedily complete orders and gain more tips from familiar customers.
When choosing a delivery area, here are some tips from long-time Uber Eats drivers:
Choose areas with a high density of restaurants and residential areas.
Focus on family residential areas and business districts where customers tend to tip more compared to areas with larger student populations.
Take note of areas and buildings where parking is difficult or places like apartment buildings where it takes a long time to drop off the order. Avoid these areas or requests in the future.
Don't go beyond your turf or delivery map because you could end up spending more time traveling.
Step 5: Strategize Which Orders to Accept
For many newbie Uber Eats drivers, the common mistake is just to accept every order or request that they receive. But doing this can be quite inefficient. 
While declining orders can affect your acceptance rate, you'll be relieved to know that Uber doesn't display this any longer on your profile.
So why is it important not to accept all requests? A lot of times, you'll receive requests where the guaranteed fee is extremely low and the amount of time you need to complete the order will be long. If you keep accepting such requests, you'll end up not earning your target of $1,000 a week.
For example, if you receive a request worth $4.00 and it will take you 20 to 30 minutes to complete it, that's already half an hour gone. That doesn't include the time waiting for the order from the restaurant, waiting for the customer, and other unexpected delays.
If you accept two orders at the same rate, then you could end up just earning a minimum of $8.00 for one hour, before your expenses. Unless the customer gives you a large tip, which is often not the case for small orders, then working that hour would not be worth the effort.
So, how do you decide which orders to accept? Is there a more effective Uber Eats income calculator that you can use?
Again, it will depend on your delivery city, but here are some tips to help you determine which orders to accept:
Since you can only realistically complete an average of 3 deliveries per hour, this means that you need to earn $7 to $10 for a 20-minute delivery to get your $20 to $30 per hour target. If a request pays lower than that or will take longer, decline and wait for a new request.
Always remember which areas take more time and avoid these requests. For example, if you had a terrible experience at an apartment building where it took forever to get upstairs, then decline any future requests from that area.
Prioritize restaurants that always have their food ready, friendly staff, and high-demand for orders. If you have a turf area, be friendly with restaurant staff. This can help to have your orders expedited so you can deliver promptly.
Keep track of how much time each delivery takes you and factor that into your decision-making. For example, a 20-minute trip to an area that you're not familiar with could take much longer. So it might be better to accept a smaller job that you know will take 10 minutes or less. 
Step 6: Maximize Your Tip Earning Potential
Here's an open secret that many newbie Uber Eats delivery drivers don't know: The quickest way to reach your $1,000 a week goal is not by working 60+ hours a week, rather, it's through tips.
Your tips will make a huge difference in your earnings. Many Uber Eats drivers shared on Quora and Reddit threads that depending on your location, it's possible to increase your weekly earnings by up to 30% to 40% by getting more or higher tips.
Here are some ways to maximize your tip earning potential:
Optimize your Uber Eats Driver profile by adding a clear, friendly-looking profile picture and witty "Why I Deliver" caption.
Deliver excellent customer service. Be prompt, smile, and greet the customer by name when they open the door. This small gesture will show them that you appreciate their business and they may be more likely to leave a larger tip. This is especially important if you have a turf where you deliver to the same customers.
Focus on getting more deliveries in an hour because more deliveries mean more tips. Even if it's a smaller job, as long as it will only take a short time, you can accept it if it means getting more tips from different customers.
Step 7:  Minimize Your Daily Expenses
Even if you're on your way to earning $1,000 a week with Uber Eats, this will be a useless effort if you're spending a huge chunk of that on expenses. 
To minimize your expenses, consider these practical pieces of advice:
Use a fuel-efficient vehicle to save on gas expenses. If you're delivering in a high car traffic area, consider a scooter or bicycle to avoid delays and keep your fuel expenses low.
Make sure to track your expenses to have a clear idea of how much you're spending. You can download an app or print a free printable budget template for this purpose.
Consult an accountant or tax adviser on how you can get tax breaks like standard mileage deduction and expenses for operating your vehicle.
Bring your own food and snacks so you can save time and money while working.
If you're driving long hours as a delivery driver, you can also check out Wrapify and other car advertising options to make extra money.
BONUS TIP: Sign up for Similar Apps to Make Up for Slow Periods
If you live in an area where Uber Eats requests are slow or there are a lot of drivers, it's a good idea to sign up for other food delivery apps like DoorDash or Postmates. This practice is often called "multi-apping". This can maximize your downtime so you're always on the go.
Earn Up to 41,000 as an Uber Eats Delivery Driver
Earning $1,000 a week as an Uber Eats delivery driver is possible. However, it takes serious hustle, commitment to excellent customer service, and hours of driving. But if you're up for the challenge, it's definitely doable.