If you are like me, and spend any amount of time cruising around the Internet, you have likely come across an advertisement, in one form or another, for the Dollar Shave Club — Shave Time. Shave Money.
I have used the Gillette Mach3 for as long as I can remember. And while I have always been satisfied with the quality of the handle and blades, the price is ridiculously high!
The catchy viral campaign – and the reasonable price and convenience for blades delivered to my doorstep – were enough to get me to give the club a try.
The options are very straight forward: the Humble Twin ($1/month), the 4x (aka the Lover's Blade – $6/month), and the Executive ($9/month).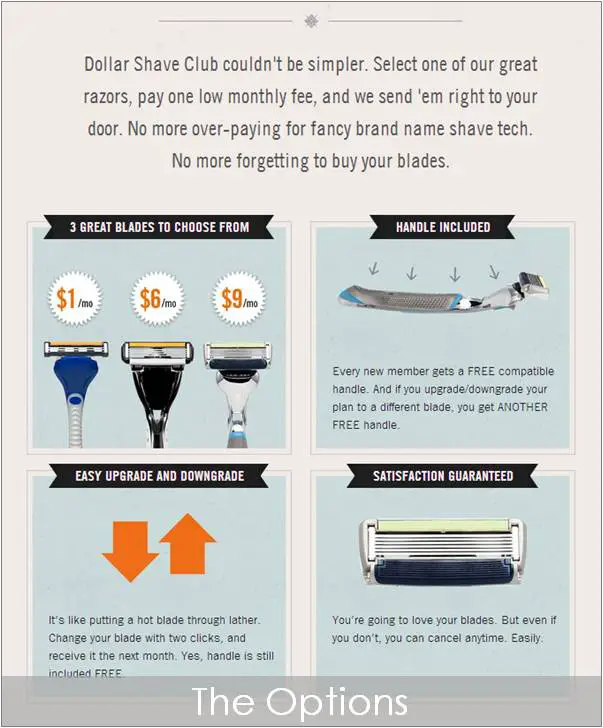 Channeling Goldilocks – the two blades of the Humble are not enough for me and the six contained in the Executive are overkill – I settled on the 4x and its $6/month price tag as it seemed just right. Within a week I received my handle, four cartridges and a sample of some shave butter.
I put the 4x to the test yesterday morning for the first time. My first impression? Dollar Shave Club and the 4x are keepers. The handle is solid with a nice weight and while the shave was not necessarily better than with my Mach3, it was comparable and I have no complaints.
My initial shave was just the face. It is likely that I will shave the head tomorrow. Using the same cartridge for the second time will give me a better idea how long each cartridge will last.
However, I have been shaving for quite a few years and I like to believe I know a quality razor when I have used one. I feel pretty confident that four new cartridges on a monthly basis will work out just fine. One cartridge a week – I normally shave my face and head twice a week – should work out quite nicely.
I'm so confident in fact, I have already put in an order for my brother, a little gift, for the 4x. He should be receiving his first shipment in a few days.
Combine the low-cost of a quality razor, with the added convenience of being delivered to your home, and the Dollar Shave Club is a frugal way to manage your shaving requirements. Check out the options, and if you do decided to join, I hope you will join as my referral. Happy shaving!