Indeed I did. Yesterday afternoon I met my good friend Gage for a nine-hole round. There was a time when we played more often. However, he and his family moved about 60 miles away a few years ago and sometimes it's difficult to line up our work schedules. Fortunately, yesterday we were able to bridge the distance, meeting at a course nearest the halfway point between our respective homes.
A Good Time for Good Conversation
As is so often the case, it was not always pretty. While Gage has a solid game – see him preparing to putt below – I am definitely a hack. But hey, I always enjoy getting out and getting in a round. I'm always thankful for any opportunity to get in a little walk, enjoy some great weather, and as always the case when I link up with my friend, engage in great conversation, often involving personal finance, the economy, and politics … as standalone topics and as they relate to, and influence, each other.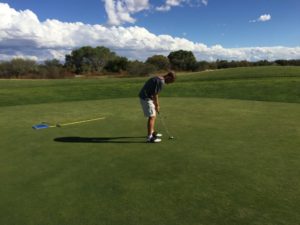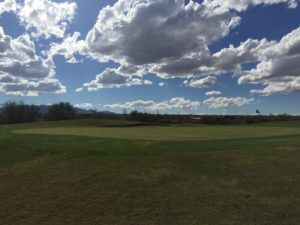 Final Thoughts
Health Fitness Revolution notes that some of the benefits of golfing include fostering relationships, increasing blood flow to the brain, fostering better sleep, and reducing stress. Indeed.
While golf is not the most physically demanding activity, it is one way to burn a few extra calories and breathe fresh air; and more importantly, if you're fortunate enough to be walking the fairways and stalking the greens with a good friend, there's a good chance a conversation will increase your knowledge and expand your understanding.
Stay active. Live well. Stay savvy.