September 6th – Update #3
Some great news. Mr. Brian Tramuel, a well-known, long-time reader has agreed to come aboard as the Editor. I reached out to Brian because I know he shares a passion for personal finance and he possesses a flair for writing. Take a moment to check out his work at TramueL.com. I'm certain he'll catch the occasional grammatical error missed by myself and my home editing team – my wife and brother – but more importantly, he'll ensure that there is a flow to the story that keeps readers engaged and help me pull off the blending of real personal finance concepts shared within the framework of a fictional thriller. With that, below is a preview of a little more material from the book. In this passage, Marcus is speaking with a young lady, a teller at a bank, he has been trying to date:
Sensing an opening, he asked, "When are you going to let me take you out to dinner?"
Without missing a beat, she replied, "As soon as you ask, probably."
Taken aback for a minute, but just a minute, Marcus had to gather his composure. "Well let's see, I'm working tonight and tomorrow, how about Friday night?"
"That's fine."
"Can I get your …" Looking down, he saw that she had written down her number on the receipt she had just slid his way.
"Have a good day, Mr. Williams. Next guest in line, please."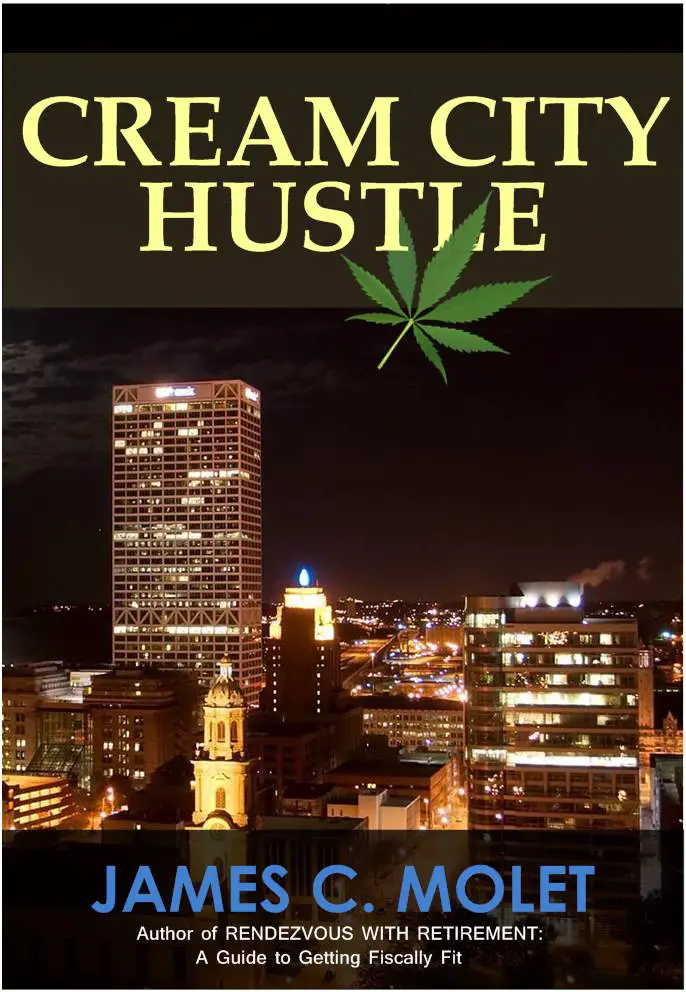 ———————————————————————————————————————————
The novel is going well. In fact, I suspect I will be able to release it earlier than originally planned. Perhaps around the end of September. Currently, the novel is at about 36,000 words. Based on where story is and how I plan to conclude it, I suspect it will end at around 55,000 – 60,000 words.
As I indicated in the Introduction to Cream City Hustle, I was looking for a name for the story's antagonist. There were a lot of good suggestions. Family members had suggestions, some were made here on the blog and a few were made on Facebook. Ultimately I settled on Caine, short for Cocaine, the suggestion submitted by long-time reader Brian. Here is a short passage that addresses how he came to possess the nickname:
Earned in Chicago – where he cut his teeth in the drug game – Caine was proud of the name bestowed upon him, and the fact that in a mere four years, he had become the largest dealer of Cocaine in the city.
And below is where Marcus, the story's protagonist, and Caine meet for the first time:
They made their way down the hall toward the door at the end. Just short of the door, Drake guided him to a stop and tapped lightly on the door. "Yeah," a voice called out from the other side. "Watch him," Drake instructed his partner who had taken up a position behind Marcus' left shoulder, as he opened the room's door and let himself in.
An indecipherable, hushed conversation was all that Marcus could hear from the other side of the door. Moments later, the door opened and Drake waved Marcus in. Marcus stepped in a few steps with his shadow close behind. "That will be all. Thank you, Ricky," said the man seated in the chair. "Yes, Sir," replied Ricky as he retreated from the room, closing the door behind him.
The room was dark. Darker than what was natural. The soft glow from the only source of light in the room, a small lamp in the corner, illuminated why. Behind Caine's left shoulder, the only window in the room had been covered with a black drape. No sunlight or moonlight was going to pierce that heavy cloth.
Drake and Marcus just stood there and Caine sat in his chair. Even seated, it was clear that this was a big man. Marcus figured he was two to three inches taller than himself and easily 40 pounds heavier. This was a big brotha. As he took in the whole scene, the two images that came to his mind as he looked at Caine in his oversized chair were Robert DeNiro playing Luis Cyphre in Angel Heart and the Joffrey Baratheon character in Game of Thrones. Caine certainly had a high opinion of himself, sittin' in that big-ass chair.
I hope you enjoyed the preview and I look forward to your feedback.
———————————————————————————————————————————
August 12th – Update #1 
Below is the first paragraph from my novel in progress, Cream City Hustle. The opening paragraph introduces the story's protagonist, Marcus. At this point, I have about 13,000 words written and it is going well as I have a very good idea where I want the story to go. Also of note, some subtle changes have been made to the book's cover. See Below. The leaf has been brought to the fore, weaved between the 'L' and 'E' in Hustle.
"Damn!" Marcus swore under his breath as he blew into his cupped hands, trying to warm them and fend off the cold November air. One day, not soon unfortunately, he would leave this city behind. As much as he loved catching the occasional Brewer's game in the spring, spending time at Lake Michigan in the summer and watching the Packers in the fall, he hated winters in Milwaukee, his hometown and the place he had called home all 19 years of his life. Absolutely hated it! "What did you say?"asked Train. "I hate the snow and it's too damn cold out here," Marcus told him, blowing more hot air into his cupped hands. "How much longer will we have to wait?" It was a rhetorical question of course. Like him, Train had no idea how much longer they would have to wait for Trevor, Marcus' supplier.
———————————————————————————————————————————
August 6th – Introduction to Cream City Hustle
I recently started my first novel, Cream City Hustle, a personal finance thriller set in Milwaukee. I'm looking for a good name (nickname) for the antagonist, a would be drug kingpin. Any suggestions? I'll be sure to give a shout out in the Acknowledgements to the person that comes up with the chosen name when the book is published.
I plan to offer updates as I make progress. Look for a preview of the first paragraph or two next week. I look forward to getting reader feedback.
This is the working book cover…