My debut novel follows the struggle of one young man as he seeks to secure his financial future in a system that constantly applies downward force and a drug dealer bent on his absolute destruction.
In the heart of Milwaukee, Marcus dreams of attending college, minus the scourge of debt, and building a firm financial foundation. Through misfortune he crosses paths with Caine, a would be drug lord from Chicago who has relocated to the Cream City to build an empire. His name – derived from cocaine – was earned in Chicago, where he cut his teeth in the drug game and in a mere four years, had become the largest cocaine dealer in the city. When all is said and done, and the snow has settled in the Cream City, only one man will remain standing.
Through humor, imagination and mystery, personal finance concepts are weaved into a tale of danger, deception and avarice. Cream City Hustle – A Personal Finance Thriller.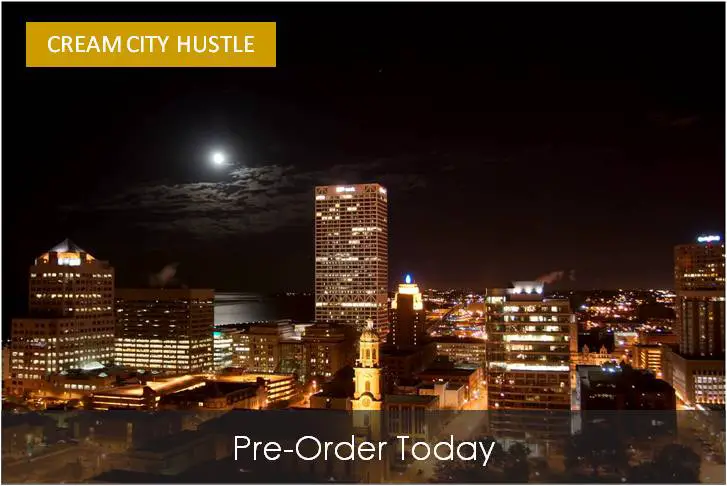 PROLOGUE
Near West Side. Chicago. To the casual observer, not much ever happened near the intersection of South Keeler Avenue and West Roosevelt Road. An abandoned warehouse fills one corner, stretching half a block in either direction. Empty lots littered with trash and empty bottles, long ago abandoned by would be entrepreneurs, occupy two corners opposite one another. The last corner is home to a run-down strip mall populated by a hair salon, a barber shop, a Bar-B-Q joint and a storefront church where the Southern style gospel music that escapes through the entrance is the only source of inspiration in an otherwise grim reality. Near West Side, Chicago is not a Norman Rockwell image of America.
On this sleepy Thursday afternoon however, something did happen. Anyone who had stumbled into the warehouse and back into the room that formerly housed the Human Resources department, would have been witness to justice, as administered on the cold, hard streets of Chicago. He never would have imagined, at 27 years of age, that he would pee himself. But that was exactly what had happened. After binding his hands and feet, Drake had ordered him to his knees as he pulled out a Smith & Wesson 9mm.
"I would never steal from Caine, Drake. You know that!"
"Your lies fall on deaf ears, L.J. We know you've stolen and you know the price."
As the word 'price' escaped Drake's lips, L.J. saw Caine, or more accurately, Caine's shadow enter the room. On his knees, in the middle of this room and with his head forced down by the barrel of the 9mm, he couldn't see anything that was higher than two feet off the floor. However, the width and height of the shadow – the sheer girth – combined with the situation that brought him here, told him all that he needed to know. It was Caine. That was when his bladder betrayed him and he peed himself.
He felt the barrel of the gun move away from his head, which was followed by an indecipherable, hushed conversation just a few feet away. It was the last thing L.J. ever heard. He never knew if it was Drake or Caine that stepped quietly to him, raised the gun to the back of his head and fired that fateful shot. The single shot barely registered with those that passed by at the time.
It would be nearly three weeks before the body was found.
Cream City Hustle – Available now for pre-order at Amazon.com