Many of our happiest life moments are the times we spend with friends. It's not surprising then that we often wish we could just enjoy their company more. 
But sometimes, even just meeting up to have coffee or a few drinks can break our budget. We then resort to cutting down on hang-out times. 
Hang-out time, however, doesn't have to be splurge time. You and your besties can do many things and visit places without spending any money. 
We gathered a comprehensive list of tips on how to hang out with friends for free, especially when you're all getting a bit bored just spending time at home. Or maybe, you're all thinking of what to do in the summer or other vacation periods that are budget-friendly. 
If you're wondering about activities to do or places to go with your friends without spending a dime, read on. 
Here are 19 Fun Things To Do With Friends For Free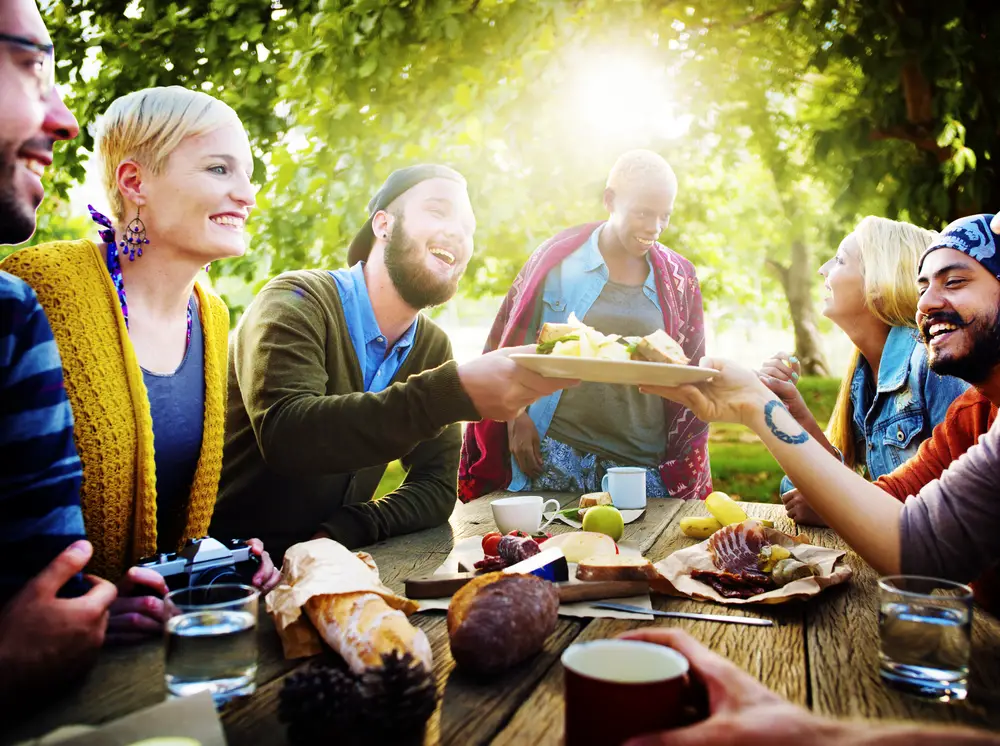 Here are some ideas that are high on fun but low or zero on spending. 
1. Binge-watch a TV series or have a mini-Film Fest 
Choose a great TV series on Netflix, HBO, or other streaming service providers that your friends agree is worth the time. 
There are tons of series available like "Stranger Things," "The Crown," "Better Call Saul," etc., so you're sure to find one that your group likes. Check out the documentaries too.
You could also binge-watch movies. You could have your own film festival by choosing a favorite actor and watching as many of their movies as your time permits. 
Or you could choose a genre or subject matter and see the differences in treatment. For example, if you all like zombie movies, you could start with George Romero's classic "Night of the Living Dead," to the comedy "The Dead Don't Die," the musical "Anna and the Apocalypse," to the horror-thriller "Train to Busan."
You could also compare remakes with originals, such as "Ocean's Eleven" of 1960 with Frank Sinatra, Dean Martin, and Sammy Davis Jr. and the version of 2001 with George Clooney, Brad Pitt, and Matt Damon.
---
2. Go sound tripping 
If you'd rather listen to music than have a movie or series marathon, you and your friends could try binge-listening from streaming music services that have free content tiers alongside their paid or premium subscriptions. These include Amazon Music, LiveXLive, Spotify, and YouTube. 
You could choose an artist, a genre, or a music era that you all enjoy and sing, or dance along or just chill out. It's like going to a concert without leaving your home or breaking your bank for front-row seats. 
You could also have themes for your binge-listening sessions. 
For example: It's 2022. Why not listen to artists or albums that launched in 1982? Find out if 40-year-old albums can still sound good to you. 
Top albums turning 40 this year are Michael Jackson's "Thriller" and "Billie Jean," Toto's "Toto IV," and Janet Jackson's self-titled album, among others.
Or try listening to genres, artists, and instruments that you're not familiar with. There's plenty of music out there! How about Gypsy jazz, taiko drums, or ska? 
---
3. Go out and run (or hike)
Running is not only one of the best cardiovascular activities, but it's one of the simplest and cheapest ways to get fit. There are no complicated steps to follow and no equipment necessary except for running shoes. 
You may or may not choose to set distance targets, but with your best buddies running with you, you'll no doubt rack up kilometers in no time. It's a great workout for your heart, your body, and your brain. 
If your knees can't take running, walking or hiking are good alternatives. Hiking is also a good cardiovascular exercise even if it's relatively less intense than running. Also, hiking in scenic trails can be invigorating.
---
4. Workout together
It's sometimes difficult to keep an exercise routine if you're doing it alone. It's a lot better to have someone to work out with. 
Choose a suitable place, maybe a park or open space, and complete your exercise routine. It's a fun and free thing to do with your friends in summer. 
Playing sports is another way to get a workout. Basketball, badminton, tennis, volleyball, soccer, or frisbee-throwing are good ways to work out a sweat and keep fit with your friends. 
---
5. Go backyard camping
You don't have to go far to enjoy a night under the skies. All that you and your friends need is a tent and a backyard. 
Pitch the tent, put out some pillows and sleeping bags, and bring out your favorite snacks. 
The best thing about backyard camping is that you don't have to worry about a bathroom, and you can all get back inside the house in case the weather doesn't cooperate.
---
6. Start a book club
You and your book-loving friends most likely have books that still haven't been read long after purchase. Now's the time to read the same book and meet up once or twice a month to discuss what you're all reading. 
Potluck on snacks and drinks. Book clubbing is a good way to bond with your friends at home. 
---
7. Have a Random Recipe Challenge 
Spend time together like contestants of a cooking game show where the day's challenge is to make something with whatever is in the fridge or in the pantry. 
Channel your inner chefs and come up with something delicious.
If none of you are skilled in the culinary arts, you can download a recipe app like Frigo Magic which suggests recipes for you to try out with only the ingredients you put in the search bar. 
This app is available for download on the App Store and Google Play.
---
8. Volunteer with your friends
Check out nonprofits or charities in your area that need extra hands in soup kitchens, homeless shelters, and animal shelters. 
Some nonprofits and charities like Habitat for Humanity and Best Friends (works to care for homeless animals) may have chapters near you, so check them out too. 
If you like beaches, rivers, or streams, why not volunteer for a clean-up? You can contact your state's Parks and Recreation Department for information on clean-ups of waterways. 
---
9. Watch a meteor shower
If you or your friends enjoy the night sky, besides looking at stars and identifying constellations, you may want to gather in one's backyard or—if you can manage it—a place away from city lights when meteor showers are expected to occur. 
All you will need is a sleeping bag, blanket, or lawn chair, and patience to just look up. 
Check the NASA website for help on how to catch the meteor showers. Likewise, NASA has tips on how to photograph a meteor shower. 
According to NASA, the remaining meteor shower watching dates in 2022 are: 
April 21-22 (Lyrids)
May 5-6 (Eta Aquarids)
July 29 to 30 (Delta Aquariids)
August 11 to 13 (Perseids)
October 21 to 22 (Orionids)
November 17 to 18 (Leonids)
December 13 to 14 (Geminids). 
The Perseids and Geminids are the most spectacular meteor showers, with up to 160 meteors flashing per hour.
---
10. Go skywatching 
Meteor showers are not the only celestial shows. There's plenty to see for skywatchers. Watch the moon and its phases, the planets, and constellations. You don't even need a telescope. Just look up!
If you're not sure what to look at, NASA provides monthly highlights as well as a daily guide on what's up in the skies for the entire year. 
This year, expect to see planetary alignments, lunar eclipses, and supermoons. 
---
11. Play creative games 
Your group can play "Exquisite Corpse". Get a sheet of paper and a pen, crayon, or marker—anything to draw with—and start by having one of your group draw a person's head. 
Then, fold or cover up the paper and have another friend draw another body part, covering up each additional part so that the final drawing will be a surprise to all. 
When the feet have been drawn, unfold the paper to reveal your group's "Exquisite Corpse". It could look absurd—after all, the game is attributed to Surrealist painters like Dali—but it could be worth lots of laughs at least. 
And if your group's collaborative art piece is really exquisite, why not hang it up sometime? 
Exquisite Corpse can also be played in the form of collaborative poetry. In this version, your group just must agree first on sentence structure, e.g., "Adjective, Noun, Verb, Adjective Noun," and then take turns writing a sentence. 
As with the drawing version, previous sentences must be hidden. 
When everyone has contributed a line, read your collaborative poem out loud, no matter how absurd it sounds. Give yourselves a round of applause while shouting, "Author! Author!"
---
12. Try blind contour drawing
Another creative game which can unleash your and your friends' artistic juices is "Blind contour drawing." 
This is where you draw by keeping your eyes focused on your subject and proceeding to sketch while keeping your drawing tool on the paper. No peeking at the paper! 
Pair up with a friend and draw one another using the blind contour technique. It's supposed to be a quick sketch since you're not allowed to look at your paper. 
Exchange artworks afterward to find out how you drew one another. It's guaranteed to amuse you at least, if not amazed by your creative output. 
---
13. Walk the dogs together
If you and your friends have dogs, you could set a time to walk your dogs together. 
It's not only great for improving human-to-human friendships, but it's a good way to teach your dog how to socialize with other dogs. 
---
14. Learn a language 
Having friends learn a new language with you can help all of you get skilled in it quickly, since you'll have conversation partners to practice with.
You can download a free language learning app like Duolingo and start learning. 
If there's more than two of you learning the same language, you can even set something like "French Night" where you speak in only the new language for the entire time. 
You may all think you sound funny, being newbies in the language of your choice, but hey, practice is the only way to get better. 
---
15. Join a virtual choir or sing karaoke at home
If you and your friends like to sing as a group, maybe you'd like to try joining a virtual choir. 
Virtual choirs like the Australia-based Couch Choir work by having instructions for different singing parts available to the public and inviting them to submit videos of themselves or their groups singing their chosen parts. 
The submissions are mixed and edited and the virtual choir performance is launched on social media for worldwide viewing. 
But if singing choir parts is too much effort, just have a sing-along at home. With or without a karaoke machine or microphone, singing karaoke at home with friends is great for bonding and stress relief. 
---
16. Go birdwatching
If you like birds and being in nature, birdwatching or birding can also be a fun activity for your group. Birdwatchers simply observe birds, enjoying their beauty and bird sounds.
Birders usually have binoculars or telescopes when they go birdwatching, but even just watching by using the naked eye can be satisfying. 
Having a field guide on birds would be helpful in identifying the species you see, but you can just search the Audubon site if you have none. 
When you see a bird for the first time and verify its species in the bird guide, write it down in a notebook—which you can call your field journal—as a "lifer." 
In birdwatcher talk, a lifer is a species that you see and positively identify for the first time (in your life). Birders usually have fond memories of the times they added lifers to their list.
You and your friends can watch your Lifer Lists grow at each "expedition." 
You don't always have to go far, really. Even the local park or one's backyard can be a birdwatching spot if there's trees, especially fruit trees.
---
17. Arrange a swap meet or a jumble
If you look around your homes, you and your friends may have lots of stuff that you've probably bought and hardly used, or been given but that's just lying around, waiting to be used. 
Or you may have two of something that's just taking up space. Why not arrange a swap meet? 
You can spice your swap meet by adapting rules, like the Christmas season White Elephant game, even if it's not December. 
You could also make it like a UK-style jumble sale but without the need to pay for anything. Just pile up (jumble) all the items that you and your friends have brought on a table or the carpet, and each friend just fishes out what they want. Everyone will go home happy. 
---
18. Host a workshop 
What special skills or interesting hobbies do you and your friends have? Which among these skills or hobbies do most of you want to learn? 
Why not arrange a workshop or a mini-master class for friends? 
Whether it's how to improve make-up techniques, wardrobe consultation, soap-making, or how to clean a bike, how to build a treehouse or granny flat, etc., your friends will appreciate the knowledge-sharing. 
---
19. Learn how to dance 
If you'd like some help with your two left feet, ask your friends to join you in following a dance tutorial or the choreography for a group dance. 
If you've been shy about your dancing skills, this is your chance to learn with your supportive friends around. 
Choose a dance tutorial on the web or on YouTube and just follow the choreography. Your group could probably try out line dancing, slow dancing, or just sample different dance moves from various time periods.
Dancing has not only physical benefits—it can be a form of cardiovascular exercise—but it can improve your mental health and social skills as well. 
Best Places To Visit With Friends For Free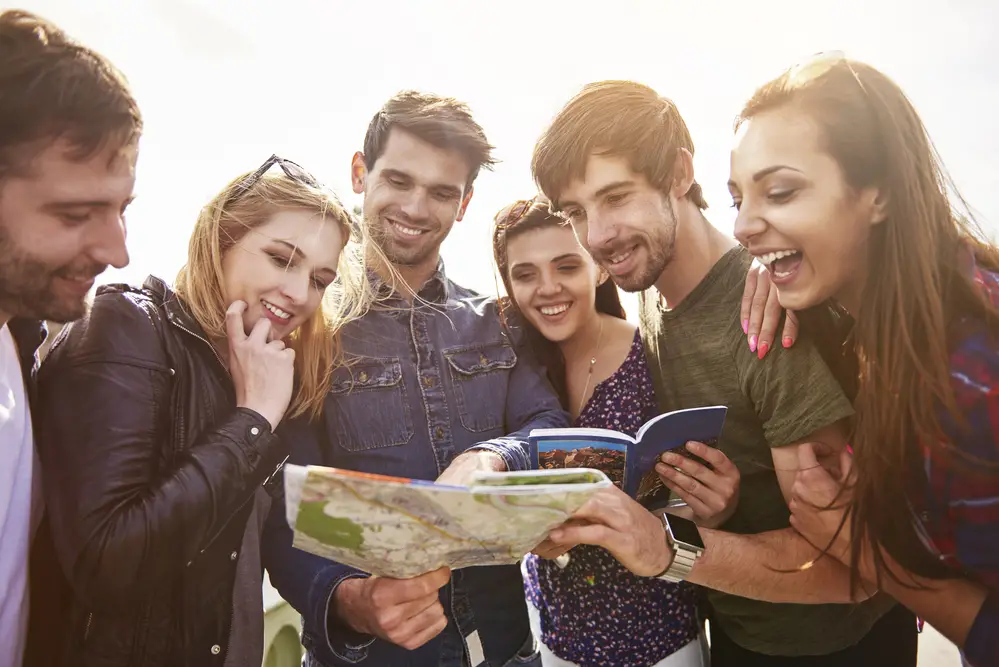 There are many places you and your besties can go without breaking the bank. 
Beaches
The US has more than 95,000 miles of shoreline, so there are plenty of beaches to comb. 
Among the best beaches in the US are:
Sanibel Island (FL)
Destin (Florida Panhandle)
Laguna Beach (between LA and San Diego, CA)
Outer Banks (NC)
Cape May (NJ) 
The best time to visit beaches is in July when the water temperature ranges are in the high 50s and 60s. If you don't want to wade in, you can just watch the water and the seabirds, lie on the sand and soak in the sun, and smell the sea breeze. 
While laws have allowed some beach fronts to become private property, there are still plenty of beaches that the public can access for free, in line with the "public trust doctrine."
Just respect "Private Property: No Trespassing Signs," if you see one, and keep the beach clean. 
---
Camping grounds
National forests and grasslands are an option if you want to find free camping grounds. Together, they comprise more than 190 million acres of public land.
To find free camp spots, you need to check with the United States Forest Service, which takes care of these areas. 
---
Museums
There are plenty of admission fee-free museums with fantastic collections. Just visit the website of the museum for details on how to visit because while admission is free, you may have to book a time to go. 
The most notable US museum may well be the Smithsonian, the world's largest museum complex, with several museums and a zoo. Admission is free to all its units except the Cooper Hewitt and the Smithsonian Design Complex in New York City. 
Other top free-admission museums are Crystal Bridges Museum of American Art (Bentonville, Arkansas), Cleveland Museum of Art (Ohio), and several others. 
Not all museums are buildings, however. They can be parks or gardens, like the 281-acre Harvard Arboretum in Boston, MA. It's described as a "museum of trees teaching the world about plants." 
Officially named the Arnold Arboretum, this year it turns 150 years old.
Among its most famous collections is the Bonsai and Penjing Collection which comprises about 40 dwarf trees originally imported from Japan in 1913. The centerpiece is made up of five specimens of Hinoki cypress which are between 150 and 275 years old. 
---
Nature Parks
Nature parks are specially designated and protected areas that showcase landscapes in their current ecological state.
There are about 400 national parks in the US. Many of them charge admission, but for five days this year, there's an opportunity to visit them for free. 
The National Parks Service is waiving entrance fees in famous sites like Denali (Alaska), Grand Canyon (Arizona), Yosemite (California), and Canaveral (Florida). 
The first entrance fee-free day was on Martin Luther King Jr. Day (January 17). The next four free entrance days in national parks are: 
April 16 (first day of National Park Week)
August 4 (anniversary of the Great American Outdoors Act)
September 24 (National Public Lands Day)
November 11 (Veterans Day)
Some national parks also have camping grounds (but some charge camping fees) and hiking trails. 
---
Bike-friendly communities
Do you and your friends like biking? Why not go biking around a bike-friendly town? 
May would be a good time to ride out because it is National Bike Month. It's been so since 1956 when the League of American Bicyclists began promoting bicycling in communities in the US. 
The top three bicycle-friendly states are Washington, Oregon, and Minnesota. This is according to the league's most recent assessment of all states for bike-friendliness. 
The league offers a map that will help you find a bicycle-friendly city or community near you to visit. 
This year, the league is encouraging more people to celebrate biking with a "#BikeThere" challenge. You may want to join other cycling enthusiasts on these dates: 
May 1 (National Ride A Bike Day)
May 16 to 22 (Bike to Work Week)
May 20 (Bike to Work Day).
---
Places with the best sunrises and sunsets
Nature parks and other wide-open spaces are the best places to watch the sun. The National Parks Service offers its help if you want to find the perfect sunrise and sunset. 
Best sunrise spots across the States include:
Gulf Shores (Alabama)
Monument Valley (Arizona)
Lake Chicot (Arkansas)
Silver Sands (Connecticut)
Rehoboth Beach (Delaware)
Belmont Harbor (Illinois)
Woldenberg Riverfront (Louisiana)
Ross Barnett Reservoir (Mississippi)
Valley of Fire (Nevada)
Fort Lee (New Jersey)
While the best places to watch the sunsets, according to travel company Expedia, are:
Grand Canyon (Arizona)
Key West (Florida)
Wailuku and Kailua-Kona (Hawaii)
Glenwood Springs (Colorado)
Seattle (Washington)
Santa Barbara (California)
Apalachicola (Florida)
Honolulu (Hawaii)
Ely (Minnesota)
---
Public libraries
Public libraries are no longer just places for reading or borrowing books. They are also places that offer free access to multimedia, such as music, movies, and audiobooks, and as such are great places to hang out with friends. 
There are many libraries as well where you and your friends can borrow board games and video games or try out 3-D printers and recording equipment. 
Some public libraries like the Boston Public library have also expanded their range of services to include walking tours that cover history or art and architecture. It's a new trend called "bibliotourism."
Check out events or activities at public libraries near you, especially on National Library Week this coming April 3 to 9. 
Some safety reminders on visiting amid COVID-19
Since most of the world is still in a pandemic context, follow the health advisories in your community on personal protection, as well as group gatherings in line with COVID-19 safety. The guidance may include wearing masks, limits on event participants, and social distancing.
If you're visiting museums and libraries, check their websites for health guidelines. Some places may require masks and vaccine cards. 
If you're going to nature parks, including camping grounds and beaches, check the website of the site you're visiting to know about any applicable rules. 
The best things in life are free
There's an old song that goes: 
"The moon belongs to everyone
The best things in life are free …
The flowers in spring
The robins that sing
The sunbeams that shine
They're yours and they're mine …
The moon belongs to everyone
The best things in life, they're free"
Good times don't have to depend on money. When we become adults, it helps to remember that when we were all younger, all we had to spend was time. But even if we were just hanging out and not doing anything "special," we all considered just being with our true friends is time well spent.