Documentary:The Water Front (2007). This short documentary (53 minutes), tells the story of a Detroit suburb, known as the birthplace of the auto-industry. Before Detroit, its appointed emergency city manager Kevin Orr, and its financial collapse, there was Highland Park. In June 2001, due to the city's mounting fiscal crisis, an emergency financial manager was appointed under the supervision of the state of Michigan.

Residents of this city were receiving water bills as high as $10,000, had their water turned off, their homes foreclosed, fought to retain access to water, and struggled to keep water – what many consider to be a basic human right – from becoming privatized.
While the documentary uses water, and water bills, as the backdrop, this story is more than about water.  It is about an American city in crisis, and how its citizens – and the government chartered to manage resources – attempt to navigate an impossible labyrinth.
Learn more about the story at http://waterfrontmovie.com/
Awards:
The Ramsar Medwet Award at the Ecofilms Rodos International Film and Visual Arts Festival
Katherine Knight Award, EarthVision Environmental Film Festival
'Best of Fest' at 2008 Hazel Wolf Environmental Film Festival
Available for streaming at Netflix.
Documentary: Broke (2007).  From the ESPN 30 for 30 series, this film looks at what athletes do with the money from their enviable salaries, and the forces that drive many of them to bankruptcy and financial ruin.
The following is the ESPN film summary:
According to a 2009 Sports Illustrated article, 60 percent of former NBA players are broke within five years of retirement. By the time they have been retired for two years, 78% of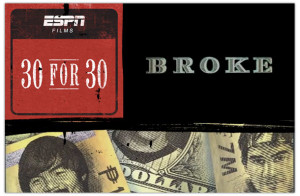 former NFL players have gone bankrupt or are under financial stress. Sucked into bad investments, stalked by freeloaders, saddled with medical problems, and naturally prone to showing off, many pro athletes get shocked by harsh economic realities after years of living the high life. Drawing surprisingly vulnerable confessions from retired stars like Keith McCants, Bernie Kosar and Andre Rison, as well as Marvin Miller, the former executive director of the MLB Players Association, this fascinating documentary digs into the psychology of men whose competitive nature can carry them to victory on the field and ruin off it.
Director Billy Corben (The U, Cocaine Cowboys, Limelight) paints a complex picture of the many forces that drain athletes' bank accounts, placing some of the blame on the culture at large while still holding these giants accountable for their own hubris. A story of the dark side of success, "Broke," is an allegory for the financial woes haunting economies and individuals all over the world.
Available for streaming at Netflix.