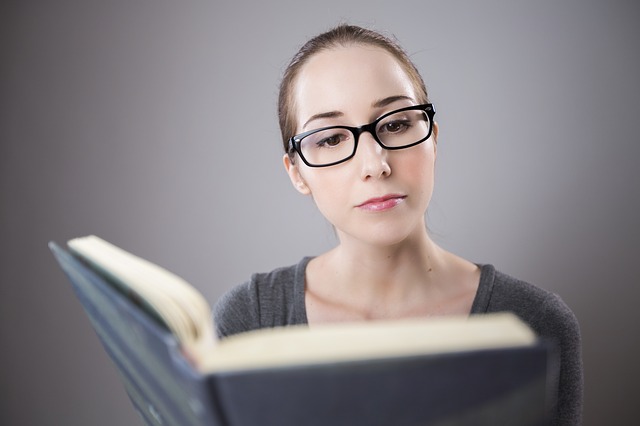 College Return on Investment – A Forecast
In the past, I have asked the question, "Is college worth it?" Not surprisingly, since so many people struggle with student loans, the question generated quite a bit of discussion with a wide variety of opinions. Interestingly, a new report from PayScale, creator of the largest database of individual compensation profiles in the world containing more than 40 million salary profiles, helps to answer that question by looking at ROI, the return on investment.
PayScale's College ROI Report has been keeping track of the monetary value of a college education at hundreds of colleges and universities for years. But what about the future? What does it hold? As outlined in their press report, they turned to their data science team to forecast the college return on investment for both public and private schools through the year 2025. With data in hand, PayScale can now predict how much more college grads will earn in 20 years compared to the typical worker with only a high school education.
Overview
PayScale provides a forecast for the financial return on investment (College ROI) for a bachelor's degree at public and private colleges through the year 2025.
Highlights
The financial return on investment of a college education will continue to increase in the next ten years, but at very different rates for public and private colleges.
By 2025, the 20-year net ROI of a bachelor's degree at a private school will rise 4 percent, but the 20-year net ROI of a degree at a public school will rise 17 percent.
This may be in part because the sticker price of tuition at private schools is generally so much higher than at public schools.
The increased cost of a college education makes it even more important that students factor cost, career goals and projected alumni outcome data into their decisions around college choice.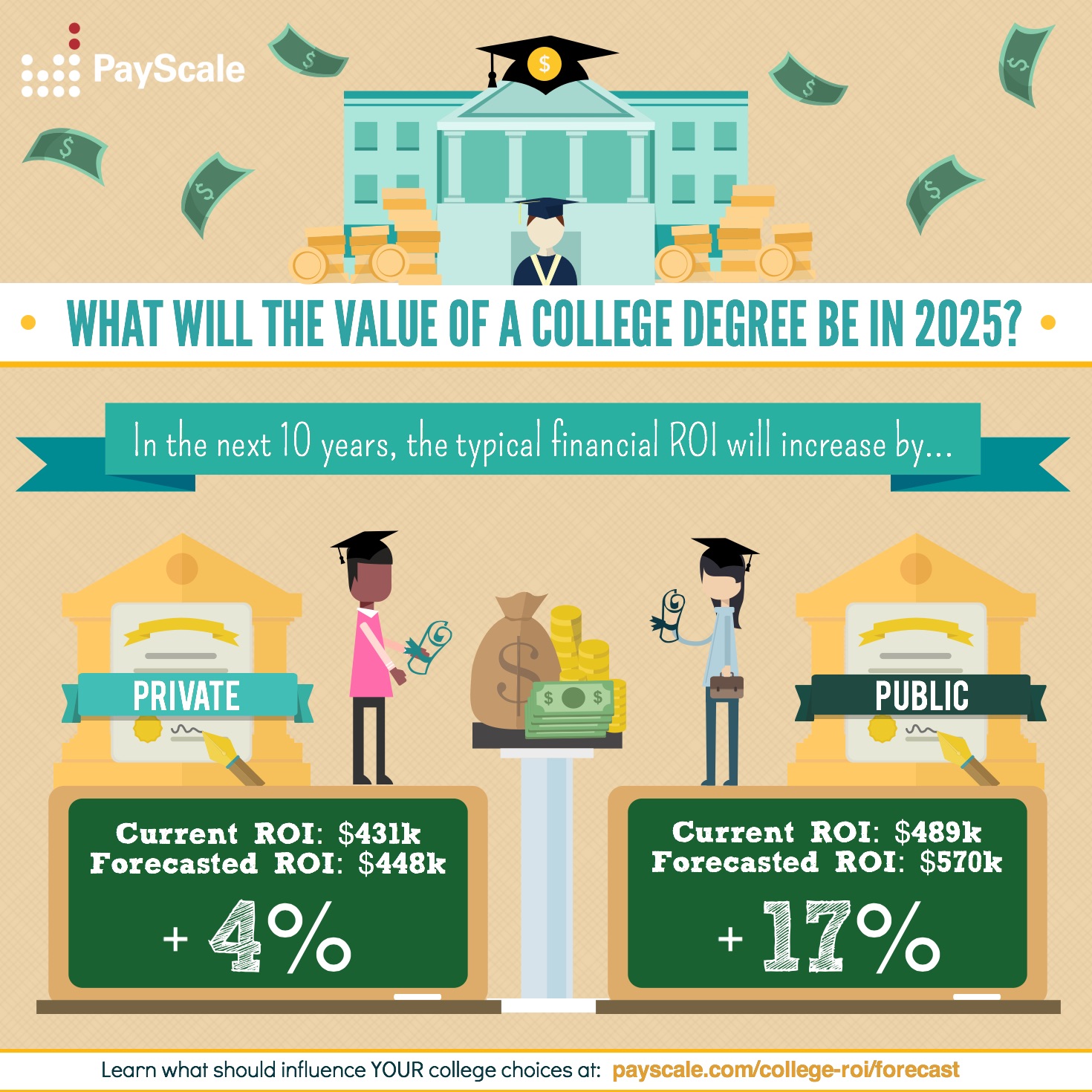 Methodology
PayScale calculated the 20-year net Return on Investment (ROI) for those with a bachelor's degree and no higher degree for the years 2006 through 2014. The 20-year net ROI is the difference between the earnings differential between a college graduate and a high school graduate less the in-state 4-year total cost of obtaining a degree. For each year, they calculate the 20-year earnings of the college graduate as the sum of the median earnings for each year of graduation going back 20 years (for example, for 2006, they utilize the graduation years of 1987 to 2006). Since high school graduates get an additional 4 years in the labor force, they calculate the high school earnings as the sum of the median earnings for each year of graduation going back 24 years (for example, for 2006, they utilize the high school graduation years of 1983 to 2006). All wage data comes from PayScale and is in nominal terms.
The cost data is obtained through the Integrated Postsecondary Education Data System (IPEDS) run by the department of education. PayScale calculated the cost of a degree as the 4-year total cost for in-state students. This includes tuition and fees, room and board, as well as books and supplies for each school year for the 4-year window (for example, for 2006, they sum the total cost figures for academic years 2002-03, 2003-04, 2004-05, and 2005-06).
Once they calculated the 20-year net ROI values for the years 2006 through 2014, they calculated a line of best fit for these data points. Using this line, they then projected ROI values for 2020 and 2025.
An interesting forecast that helps to answer the question, "Is college worth it?"