During the course of writing RENDEZVOUS WITH RETIREMENT: A Guide to Getting Fiscally Fit and running this blog, I have occasionally asked the question of myself, "How much personal information should I share with readers?"
During early drafts of my book, I spoke a little about the period preceding my divorce, but not in detail.
A friend – that was aware of some of the steps I had taken in the face of financial difficulties – read an early draft and suggested I include more personal information as a way to engage readers a little more.
Similar to early drafts of my book, during the course of running this site I haven't really delved too deeply into personal information. However, that changes a little bit today. As you can see below, I am sharing the value of my – and wife's – retirement portfolio. Why? There are basically three reasons I feel sharing this information is a good idea at this time.
First, legitimacy. By legitimacy I  am referring to the idea an individual that is writing about personal finance and retirement planning should be able to offer readers some insight into their own financial lives; some sort of 'proof'so to speak. Short of posting copies of my various annual statements, I figured this is a good way to share. Interestingly, when I was writing the book, a co-worker asked why should people trust me, what credentials do I have?
As I note in the book, I will say again, I do not possess (or desire) any finance related credentials. While I took some finance related classes during the pursuit of my undergraduate degree and MBA, most of my personal financeeducation is a result of reading books, newspapers, magazines, websites, my own experiences, and talking with some savvy friends.
Second, related to the fact that I do not have any credentials, is the idea that I truly believe most people are capable of developing and executing a savings/investment plan without being, or hiring, a professional. The book and this site are the results of that belief. I feel compelled to share with people what I know to be true.
Third, while I know my portfolio has grown every year, I did not recall the value at the end of some of the early years. I took some time to go back and review old statements and account information online (2001 and every two years thereafter), did the math, and got totals for those years. Until now I have never looked at the growth of my portfolio in the form of a line chart. It certainly is interesting to see it in this way.
Update: As of August 2015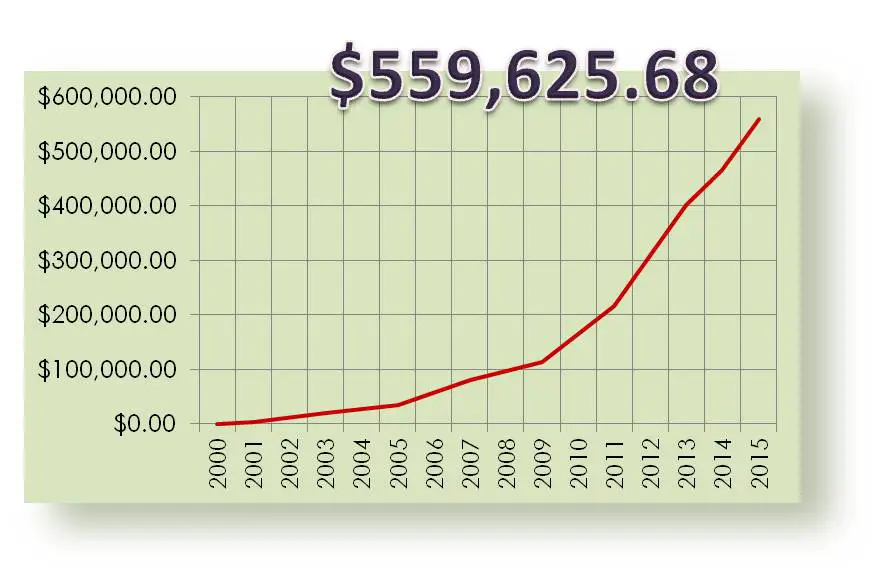 Some notes and recognition of key activities:
This is an illustration of my retirement portfolio which is comprised of savings and investment accounts, the largest of which are the TSP (401k) and IRA accounts for me and my wife.
2000 – The year my first wife and I separated and the recognition that I needed to get my sh** together; get financially savvy. Balance = $0.
2001 – My divorce was finalized and I started contributing to my Roth IRA.
2003 – I started contributing to my uniformed (active duty) TSP account.
2005 – Retired from active duty and started contributing to my civilian (federal employee) TSP account.
2007 – My wife, then girlfriend, started contributing to her Roth IRA.
2008 – Remarried.  My new wife had $41,067.42 in her TSP account the day we were married.  As you can deduce from the chart, I had ~ $60,000 in savings/investment accounts.
These numbers do not include our primary residence, or our rental property (equity in both); our vehicles (both paid for); credit card debt (minimal); or pensions. This is strictly a look at the money that will be the source of our retirement portfolio income.
How is your portfolio doing? Have you taken the time to utilize a Retirement Calculator to determine how much income your nest egg can generate in retirement?